We're fortunate to have many high-speed internet providers to choose from in Canada, but finding the fastest, most reliable plans can be a bit of a challenge – and is especially important for those of us who love streaming our favorite shows and movies day after day.
That's why we want to discuss the top providers and best internet plans for streaming tv shows and movies. Plus, we'll cover some extras, like what speeds you need, the requirements for your favorite streaming platforms, and more!
Related: Best Canadian High-Speed Internet Providers
1. VMedia
VMedia tops the list for internet service providers that can offer the speed and reliability you need to stream without experiencing interruptions. VMedia is Canada's leading independent provider of residential telecom and broadcasting services. Since our launch in 2013, VMedia has been dedicated to providing high speedInternet,TV and other services with lower prices, better value, innovative features and excellent customer service to Canadians across the country.
Speed and reliability are our mantras so that our customers can trust us to enable them to surf, stream, browse, download and enjoy all that the internet has to offer.
We offer various speeds, unlimited data without caps, the best prices and other advantages – and all without any contracts. We also provide 'build your own' TV packages with low cost starter packs and a la carte channels so you pay for what you watch and can include all of your favorite TV channels, whether you want to stream live or on-demand..
With our low prices, unlimited plans and strong dedication to customer service, there's a reason why, VMedia tops the lists of providers for internet plans that streamers love.
Curious about our unlimited data, high-speed, ultra-reliable internet plans? Keep reading or skip ahead and find the best plan for you.
2. Primus Internet Services
Primus offers fiber internet services across Canada with unlimited usage and speeds up to 1 Gbps: plenty of download speed for streaming your favorites.
While Primus may not be the top choice for home internet designed for streaming, the company's services are more than enough; however, where Primus truly shines is in its business services.
They offer local businesses more than an internet plan — they provide hosting packages for companies to host their website or software, making Primus an excellent provider of business solutions to support the unique businesses throughout our country.
3. TELUS
While completely unnecessary if most of your internet usage is spent streaming, TELUS does offer some of the fastest speeds in Canada — up to 1,500 Mbps download and 940 Mbps upload.
However, the primary reason we included TELUS in our list of the best internet plans for streaming is because of its community involvement. The company offers free services to those in the foster care system and provides low income families with internet and phone services at a discounted rate.
TELUS offers various internet and TV packages through fiber, meaning you get the fastest speeds possible — as long as fiber is available in your area.
4. Cogeco Internet
Cogeco is a well-known telecommunications company throughout Canada that offers speeds up to 1 Gbps — which is more than you'll likely need to stream your favorite shows without interruptions. Like many providers, they also offer bundles if you want to include phone and TV services with your subscription.
Related: Best Canadian TV and Internet Bundles
Cogeco Internet provides fast speeds and reliable service to businesses and homes all around the country. Whether it's streaming the newest episode of Letterkenny or performing day-to-day business operations, plenty of households and companies trust Cogeco to keep things running smoothly.
And with a 24/7 support team located in Canada, you'll always have the help you need when you need it.
5. Bell Canada
If you live in Ontario, Bell Canada offers some of the highest speeds around — exceeding 1.5 Gbps. While that's overkill for streaming, if you want the fastest downloads or stress-free gaming experiences, it's hard to beat Bell Canada.
However, Bell makes our list because of its wide variety of options; no matter your budget or speed needs, you'll likely find a suitable plan.
Better yet, Bell Canada is one of the best options if you live in rural areas of Ontario, due to the company's popular fixed wireless capabilities that many other ISPs in the area can't match.
What Internet Speeds Do You Need for TV and Movie Streaming?
When you're streaming the newest episode of your favorite show or that movie you've been waiting to appear on the platform for months, the last thing you want to experience is buffering or other interruptions.
With the right internet plan, you'll load the audio and video beforehand, eliminating these problems. But with a slow connection, you're in for a painful experience.
Let's look at the sweet spots for streaming your favorite movies and shows:
Streaming SD (one television) on a single device: 5 Mbps

Streaming HD on one or two devices: 25 Mbps

Streaming HD from multiple televisions and devices: 100 Mbps

Streaming 4K from multiple televisions or devices: 300-500 Mbps

Streaming 4K + uploading from multiple devices: 1,000+ Mbps
How Much Data Per Hour Do Different Streaming Platforms Use?
Next to speed, how much data your plan offers affects your streaming performance. Ultimately, unlimited plans without caps are best for streaming. However, if you don't have those plans available due to your budget or location, you'll want to understand how much data each streaming service typically uses.
So, let's look into the data requirements of popular streaming platforms (note: the data use listed below is per hour of streaming and an approximation; actual data use may vary slightly per household):
Netflix (SD): 1 GB

Netflix (HD): 3 GB

Disney+ (SD): 600 MB

Disney+ (HD): 2 GB

Disney+ (4K): 7.7 GB

Hulu (SD): 600 MB

Hulu (HD): 1.3 GB

Hulu (4K): 7 GB

Twitch: 1.4 GB

Spotify: 45 MB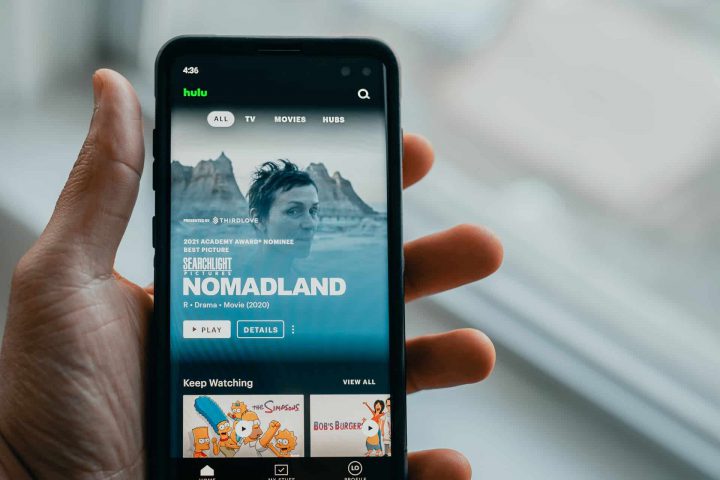 Related: What Internet Speed Do You Need?
VMedia Internet Plans to Make Your Streaming Seamless
So, now it's time to find the best internet plan to stream TV shows and movies. At VMedia, we offer various plans so that you can find the perfect fit for your streaming habits.
For streamers on a budget that don't need to watch on multiple devices at once, our

25 Mbps internet plan

starts at $29.95 per month.

For streamers who need a little more, our

150 Mbps internet plan

starts at $61.95 per month.

For streamers looking for the fastest speeds, our

1 Gbps internet plan

starts at $84.95 per month.
Don't see the right speed for you? Don't worry — we offer various plans at different speeds in between all of those choices. Find the right one for you here!