VMedia TV
on the GO!
Take us with you.
Everywhere.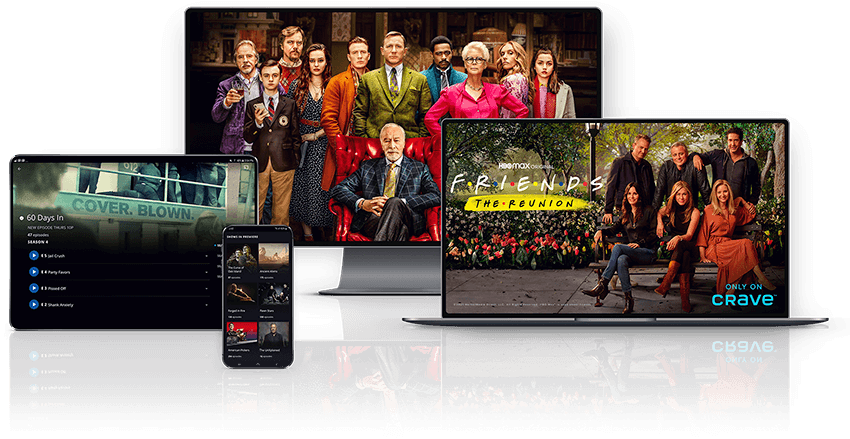 You can now watch TV on your PC, laptop, iPad, iPhone or Android device with your VMedia TV subscription. Follow these quick steps to set up your account.
Watch hours of Duck Dynasty, Storage Wars, The First 48 and more. All of your favorite A&E shows are available wherever and whenever you want, right on your Android devices.
The A&E app is a great new way to access full episodes and clips from all that A&E has to offer. New content is added all the time.
The A&E app enables you to:
Watch full episodes and clips of your favorite A&E series including Duck Dynasty, Storage Wars, Intervention, The First 48 and many more.
See exclusive clips and deleted scenes from A&E shows, never before shown on television.
Canada's #1 television lineup is available live and on demand on CTV GO. The app provides live streaming of CTV and CTV Two's television feed featuring Canada's most-watched programming, as well as a library of on demand content. Video can be streamed on your both Android handsets and tablets through both Wi-Fi and devices that are 3G/4G network enabled for unprecedented mobile access.
Live mobile access to CTV/CTV Two regional television feeds
On demand library of Canada's top-rated programs
Wi-Fi and 3G/4G enabled
The latest game-changing app update from Canada's Sports Leader, TSN GO gives television subscribers the ability to watch TSN1, TSN2, TSN3, TSN4 and TSN5 live on multiple platforms, anytime, anywhere. Download TSN GO and never miss a minute of TSN's world-class line-up of live sports. Plus, for the first time ever, catch nightly editions of SportsCentre – Canada's #1 sports news program. TSN GO also gives you access to breaking news headlines from the world of sports, up-to-the minute scores and stats, and analysis and features from TSN's all-star roster of Insiders and experts.
Live streaming of TSN1, TSN2, TSN3, TSN4 and TSN5
On demand viewing of TSN's popular shows and live sports broadcasts
Video highlights, analysis, and features
A customizable scoreboard welcome screen with scores from your favourite leagues and teams
In-depth scores and stats for all sports including NHL, CFL, NFL, NBA, MLB, MLS, NASCAR, F1, curling, and more
Industry-leading hockey news and analysis from Bob McKenzie, Darren Dreger, and James Duthie
NHL Game Tracker with in-depth player and team stats, and real-time on-ice match-ups! Follow every play, in every NHL game
Articles and blogs from TSN's best-in-class team of Insiders and experts
Live audio streaming of TSN Radio stations: Edmonton, Winnipeg, Toronto, Ottawa, Vancouver and Montreal
RDS, le leader francophone de la diffusion sportive au Québec, est fier de présenter l¹application RDS GO pour les mobiles Android. Véritable source d¹information sportive au quotidien, RDS GO vous offre toute la profondeur du RDS.ca réunie dans une même application conviviale. Où que vous soyez, demeurez informés en temps réel de tout développement dans le monde du sport; nouvelles, résultats, vidéos, alertes et plus encore sont accessibles du bout des doigts. De plus, RDS GO offrira sous peu en grande primeur la possibilité de visionner les chaînes RDS, RDS2 et RDS Info en direct !
Résultats, classement, statistiques en profondeur pour tous les sports
10 ligues (NHL, LHJMQ, AHL, LCF, NFL, MLS, NBA, MMA, F1, NASCAR) et 6 sports (Boxe, golf, tennis, cyclisme, curling)
Sections spéciales pour les équipes professionnelles du Québec (Canadien de Montréal, Alouettes de Montréal et Impact de Montréal) avec articles, vidéos, statistiques et informations sur les joueurs
Personnalisation de vos nouvelles par sport ou équipes préférées pour les consulter plus rapidement
Alertes « Flash infos » pour les manchettes sportives d'importance
Alertes « Nouvelles Canadiens » et « Nouvelles LNH »
Alertes vidéo « C'est le but ! » exclusives pour les buts des Canadiens de Montréal
Section vidéo sportive la plus complète qui soit
Blogues et chroniques de la meilleure équipe d'experts
Mise en mémoire des articles pour lecture hors connexion
Crave is a subscription video streaming service offering access to Crave Originals, Showtime series, select HBO library series and much more. Stream using the new Crave website and app or watch on the VBox.
Sportsnet NOW gives you 24/7 access to Sportsnet, Sportsnet One and Sportsnet 360.
Live stream the NHL, Jays & MLB, Raptors & NBA, EPL, WWE, Curling, MLS, Tim & Sid, Sportsnet Central and much more.
Now, in addition to the latest WWE videos, news and thousands of photos, you can use the WWE App as your exclusive portal to WWE Network – a 24/7 streaming service with both scheduled programming and a massive, on-demand library.
Only on WWE Network, you'll see every WWE live pay-per-view event, including WrestleMania, groundbreaking original series, reality shows and documentaries. You'll also be able to explore sports-entertainment's most comprehensive video-on-demand library, featuring every WWE, WCW and ECW pay-per-view ever – uncut and uncensored – plus, classic matches and replays of Raw and SmackDown.
Avec Super Écran GO, profitez d'un accès instantané et illimité à plus de 300 heures de contenu de première qualité, partout en tout temps ! Accédez à une banque de plus de 150 films pour tous les goûts, ainsi qu'à des séries exclusives -dont les prestigieuses séries HBO- le tout, en haute définition. Super Écran GO est accessible à partir de vos téléphones ou tablettes Android (4.0+)
Ce service est inclus gratuitement avec votre abonnement à Super Écran.
Stay informed with the latest headlines. Follow up-to-the-minute reporting on your tablet, mobile phone, or browser, with breaking news alerts and live video. Lead the conversation and keep up to date with the latest news, and dig deeper into the stories that matter most to you. Enjoy access to CNN, CNN International, and HLN. Plus, access your favourite programming On Demand, including Parts Unknown with Anthony Bourdain and This is Life with Lisa Ling.
Features:
Interactive show schedule:

One-touch

access to browse and watch any CNN show or story from the previous 24 hours.
Related digital coverage: Articles, video, maps and more editorially matched to every story aired on CNN.
Live streaming: View live streams of CNN, HLN and CNN International.
On Demand: Watch CNN original series at your convenience.
Enjoy your favourite shows on these popular channels: Discovery, Animal Planet, Investigation Discovery, Discovery Science and Discovery Velocity with the Discovery GO App.
Features:
Watch full seasons at your convenience on demand
Browse and search for your favorite shows by genre
Save favorite episodes to your watchlist
Access exclusive early premiers before they air on TV
View live streams of your favorite shows
Thousands of hours of content at any given time
---
Discovery Channel
Discovery Channel is dedicated to bringing our viewers amazing stories and experiences from the world of science, natural history, anthropology, survival, geography, and engineer.
Animal Planet
Animal Planet is the world's only entertainment brand that connects viewers to the full range of life in the animal kingdom. Enjoy full episodes and specials of all your favorite Animal Planet shows anytime.
Investigation Discovery
Immerse yourself in compelling true crime stories and flex your inner detective skills with ID GO, the popular app from America's #1 true crime network.
Discovery Science
If it's a groundbreaking idea, it's on Discovery Science! Binge all the science content you could possibly want on demand. Enjoy episodes and an all your live TV favorites.
Discovery Velocity GO
Discovery Velocity features a fully-unique primetime schedule, enjoy full access to favorite shows dedicated to the automotive world including Wheeler Dealers, Diesel Brothers, Graveyard Carz, and so much more.
Register
For the initial registration you'll need your account number, which can be found in "My Account" section.
Please copy your account number and click here, or go to www.watchtveverywhere.ca and choose "VMedia Inc." in drop down menu as shown below. Click "Register" and fill the registration form. The email address and password entered here will be used to access all of the TV2Go channels. Once you've submitted this form, you will receive an email with a validation link.
Please make sure that your account number and last name appear exactly the same as on your VMedia profile.
---
Confirm registration
Please check your email and follow the link to validate your registration.
---
Login
Log in using the user name and password you created above. Once you're logged in, you'll see the channels available to watch everywhere. We're adding channels all the time, so check in frequently.
Support
Please submit a request here if you have the following issues:
Unable to authenticate
Unable to login with credentials
Television Service Provider username and password recovery issues
How to create a username and password
---
Please contact your content provider (Bell Media, Global, A&E, History) when you experience the following:
Unable to download application
Unable to access website
Incompatible device
Unable to view video
Unable to install application
Player functions not working
Storefront issues (e.g missing artwork)
Browser and OS issues
Video quality issues
Parental control issues
Can't get to login screen