With many of us all over Canada working from home, having fast and reliable internet is more important than ever. And while we have a wide selection of internet service providers to choose from, knowing which ones you can trust to help you work uninterrupted isn't always easy.
Your productivity relies on the reliability of your internet plan. That's why here to discuss the best reliable internet providers for working at home, what speeds you need, and which plan will work best for you.
Don't feel like scrolling? Chat with us here or send us a message, and we'll happily help you find the fastest, most reliable internet plan for working at home!
1. VMedia
When it comes to working at home, it's hard to beat the speed, reliability, and selection that we can offer at VMedia. There's a reason why many Canadians currently working remotely have chosen us to make their workday a little more productive and a little less stressful. We provide those working from home with the resources they need to get their jobs done without interruption.
VMedia Inc. is Canada's leading independent provider of residential telecom and broadcasting services. VMedia is also committed to fighting for competition in the marketplace to ensure that Canadians have the benefit of fair pricing for telecom services, VMedia's internet service reaches over 90% of Canadian households, and is available in all provinces, coast-to-coast. Click here (hyperlink to VMedia shopping cart) to see if VMedia's Internet deals are available in your neighbourhood!
All of our internet plans are exceptionally reliable and we offer speeds from 6 Mbps to 1 Gbps with eight different plans in between those two extremes. Plus, with no term contracts and affordable modem rental, our plans start out from $14.95 to $84.95 per month — speed and reliability without breaking the bank.
Related: Best Canadian High-Speed Internet Providers
2. Cogeco Internet
Cogeco is another well-known ISP throughout Canada that offers similar speeds to VMedia — up to 1 Gbps. The company provides businesses and homes throughout Canada with reliable internet plans to keep them working from home efficiently.
Other than reliable internet plans for working at home, Cogeco Internet offers TV service subscriptions (but don't let your boss know you've been watching Letterkenny when you were supposed to be working!).
3. Primus Internet Services
Primus also provides fast and reliable fiber internet all over Canada, offering unlimited data and plenty of speed for your work-from-home needs. And while the company can be an excellent provider for those working remotely in the country, it's also great for businesses.
In addition to its home internet offerings, Primus provides even more to businesses with hosting packages that allow them to host their web-based software or site. For those running a small business from home, Primus's unique business solutions might benefit you.
4. Bell Canada
For those working at home in Ontario, Bell Canada can offer higher speeds than many other companies — up to 1.5 Gbps. And while that's more than most of us need, if you work in a large household filled with gamers and streamers that can't stay offline while you work, it might be the little extra speed you need.
Related: Best Canadian TV and Internet Bundles
Bell Canada also has various other options, ranging from bare minimum speeds to ultra-fast and reliable, meaning that anyone can find a suitable plan to fit their budget. Plus, if you live in rural Ontario, the company is one of the most reliable providers in the area.
5. TELUS
TELUS also offers similar speeds to Bell Canada and the reliability remote workers need to perform their duties. However, there's another reason that we always like to include TELUS in our top internet provider lists: their community involvement.
The company works to connect lower income families across Canada, invests in a sustainable future, and commits to using their technology for good. While they might not be the perfect internet solution for everyone, they do take care of their community.
The Importance of a Reliable Internet Plan When Working From Home
If you work at home, your job and livelihood rely on your internet connection, meaning you need the speed and reliability your provider promised to you. Fast, reliable internet is a must-have for remote workers, and if your current service isn't cutting it, you probably want to upgrade sooner rather than later.
Your internet plan connects you to your bosses, colleagues, and customers. Whether you rely on email and social media messages or video conferencing solutions like Skype and Zoom to communicate, speed and reliability matters.
Your internet is the most important tool for meeting deadlines, staying in touch, and accomplishing your tasks productively. Unreliable internet means getting disconnected during important meetings, failing to message an important client, missing tight deadlines, and more — don't let your internet plan cost you your job.
The plan you choose could make or break your livelihood while working at home.
What Internet Speeds Do You Need For Working at Home?
When working at home, we suggest a minimum of 50-100 Mbps download speeds and upload speeds of at least 10 Mbps if you're required to upload large files regularly.
If you're working on simple tasks that don't require large uploads or attending video conferences, you'll likely be fine on the lower end at around 50 Mbps.
However, if others in your household are online at the same time, especially on multiple devices, your speed requirements will go up quickly. Plus, if video calls are frequent, you'll need more speed to have a reliable connection during meetings.
100 Mbps is a great starting point if there's two or three people using the internet at once. But if you have a large household that streams or games constantly and you still need a reliable connection for working at home, higher speeds will serve you better.
Related: What Internet Speed Do You Need?
VMedia Internet Plans: The Speed & Reliability You Need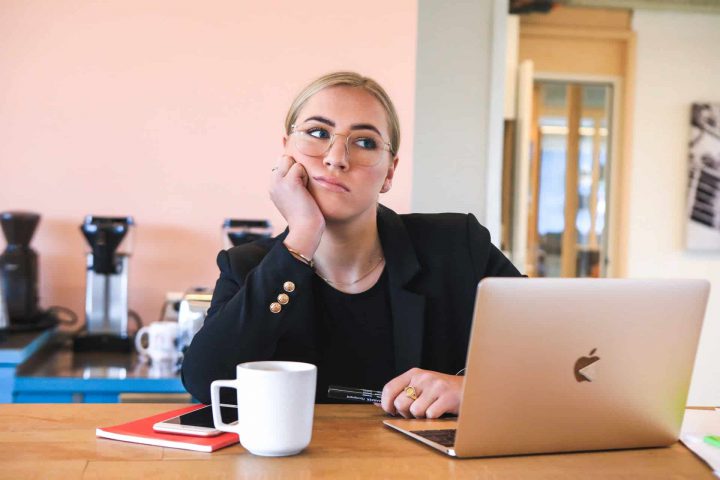 We know choosing the best reliable internet plan for working at home depends largely on what you do for work and how many other connected devices are around your household. That's why, at VMedia, we offer a range of internet plans — different speeds, same reliability.
For a basic work-from-home internet plan, many of our customers prefer the

Internet 50 Unlimited

plan: 50 Mbps download speed, 10 Mbps upload speed, and unlimited data starting at $34.95 per month.

If you need a little more, our

Internet 150 plan

is perfect for many remote workers: 150 Mbps download speed, 15 Mbps upload speed, and unlimited data starting at $61.95 per month.
Need faster speeds with reliability you can trust while working at home? See all of our plans with speeds up to 1,024 Mbps — All with unlimited data and the VMedia reliability guarantee.