Finding a quality TV service provider is easier than it looks. You just need to narrow down your needs and let them guide you to a proper match.
Nearly 90% of Canadians enjoy television from the comfort of their home. Does that mean they're getting the full range of shows they want to watch? Not always! Finding a service provider that can meet all your needs seems impossible in today's avalanche of options.
If you live in or nearby Mississauga, you won't want to miss this list. We're going to detail the 5 best TV service providers in Mississauga so you can enjoy great technology at your fingertips.
What Should a TV Service Provider Offer?
When's the last time you reviewed the positives and negatives of your TV service provider? Considering all the great strides we've made in technology, it makes sense to expect more bang for your buck.
A TV service provider should offer you more than just channels and a strong connection. These businesses need to offer consistent and high-quality customer service that meets your needs.
Answer the below questions before you proceed with our list of the 5 best TV service providers in Mississauga:
Do you work from home?
Do you frequently hold video meetings?
Do you like to live stream?
Are you a regular gamer?
Do you have broad television tastes?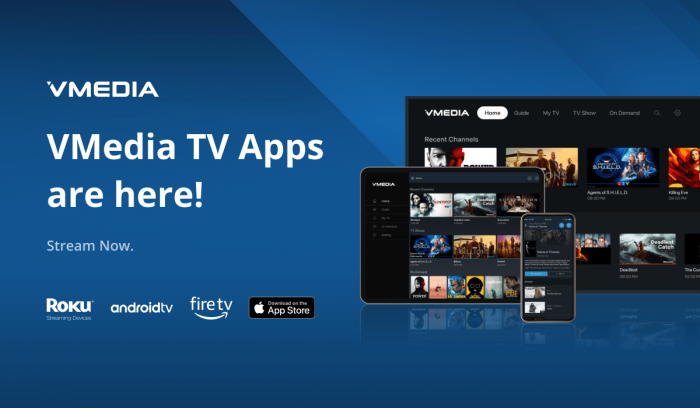 Number One: VMedia
Your one-stop shop for all things related to television and home connectivity is VMedia. If you've found yourself frustrated with technical limitations in the past, you'll love what's coming up.
VMedia is a TV service provider that offers Canadian customers a variety of services in one place. Are you on the search for an affordable television plan? Starting at just $24.95 a month, you can enjoy hundreds of channels and the ability to live stream.
For those that want a good Internet plan, VMedia provides DSL or cable starting at $34.95 a month. You can also upgrade your phone plan starting at $19.95 a month. There's no need to worry about pesky cancellation fees or credit checks, either!
When it comes to hassle-free entertainment and connectivity, VMedia puts its best foot forward.
Related: Take Your Internet Speed to the Next Level with VMedia's 1 Gigabit Plan!
Number Two: Anderson Cable
With a service that's been around since the 80's, you can likely guess as to the quality of our second option. Anderson Cable is a reliable TV service provider that will give you all the basics you need in a pinch.
Are you interested in better quality television? How about bumping up your home security options? With Anderson Cable you can choose from a wide selection of packages that target your unique needs. Their goal is to provide customers with the best possible experience with just one call: that's a pretty solid goal!
From high-speed Internet options to an upgraded phone, Anderson Cable is ready to meet you halfway.
Number Three: TelMax
Give yourself some peace of mind during the installation process. While plenty of TV service providers will give you high-speed Internet or a new phone, they won't always give you a good experience.
What makes TelMax our number three spot on this list is its commitment to customer service. They state up front there are no hidden fees to worry about, as well as no contracts. If you've found yourself stuck with plans you don't want in the past, this is a major plus.
With a well-rounded portfolio of television and communication services, TelMax is a great pick for the new customer.
Related: National Geographic on FREE PREVIEW
A quality TV service provider gives you more than just connectivity. We at VMedia are proud to offer technological insight, customer support, and more.
Number Four: Beanfield Metroconnect
Are you worried about getting stuck on a plan that doesn't suit you? Beanfield Metroconnect is one of the most transparent options on this list.
Say farewell to frustrating overage rates, hidden fees, or high installation fees. Beanfield Metroconnect provides all of the basics without any of the worry. You can choose from television, phone, and Internet packages. If you're a fan of lightning-fast Internet, you'll be happy to know they install fiber optic cables with no hassle.
Convenient and honest, Beanfield Metroconnect is a solid choice for newbies and experts alike.
Number Five: Carry Telecom
We've reviewed Carry Telecom in the past, but why not put them on here again? This TV service provider regularly does a solid job of attending to the ever-shifting needs of today's customers.
Do you need quality bandwidth to attend your work meetings or catch up with family? Carry Telecom is ready to help. Are you wondering if you should update your entire setup? They'll provide you with a keen consultation to get you the right decision.
Their risk-free seven-day trial is a great pick for customers who aren't ready to commit.
Related: W, Food, HGTV, Showcase & History on FREE PREVIEW!
Wrap Up
It's not too late to give yourself a better television, phone, or Internet service. There are a plethora of great options out there just waiting to be enjoyed.
Our 5 best TV service providers in Mississauga are VMedia, Anderson Cable, TelMax, Beanfield Metroconnect, and Carry Telecom. We chose these options not just for the products provided, but for the commitment to customer service. From Ontario to Mississauga, you're more than covered!
Ready to upgrade your entertainment center or workstation? Contact VMedia today for a consultation on the best home Internet, phone, and television plans.