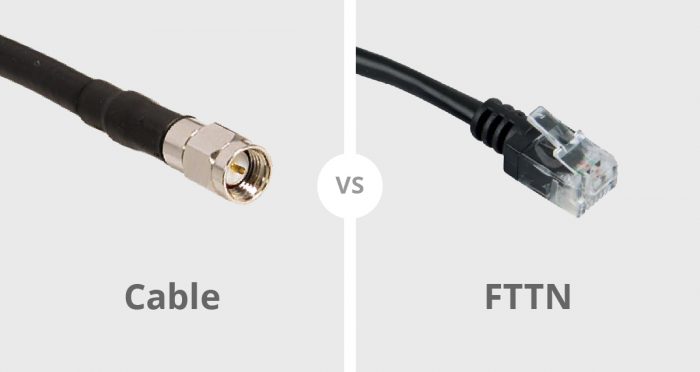 When researching the best home internet service options available in your area, you will likely come across terms like FTTN and Cable. Since you're reading this article, you're probably wondering what the key differences are between these two essential internet services and what said differences could mean for you.
Below, our specialized team of experienced internet providers from VMedia will explore the critical components of these two internet services and explain the essential differences you'll need to consider before selecting the kind that meets your unique needs.
Please keep reading to learn more about the topic. Also, consider exploring our wide selection of other educational resources covering critical issues in the realms of internet, TV, phone, and home security services. We're very proud to offer some of the best options for each, all for affordable prices you'll be hard-pressed to find anywhere else!
FTTN vs. Cable: Which One to Choose
Before you can effectively choose between FTTN and cable internet services, it's essential to understand the basics of each option and how they differ from one another in terms of their pricing and overall ability to provide a top-quality internet experience. Though the two options offer their advantages, they can each be a good choice for your home, depending on your unique internet preferences and needs.
Related: Take Your Internet Speed to the Next Level with VMedia's 1 Gigabit Plan!
FTTN Internet
The acronym FTTN is short for Fiber to the Node or Neighborhood. Though FTTN internet is fiber optic internet, it's most often known as hybrid fiber internet because it utilizes a hybrid approach to delivering broadband internet access by mixing fiber and copper wiring.
In short, FTTN is simply the method by which the internet can be delivered to your home via a signal that's transported mainly through fiber optic legs made from glass, with existing copper cables used to transport the signal for the "last mile" of the journey to your home. Fiber optic internet is typically considered much more efficient than traditional internet delivery technology that utilizes copper wires alone.
FTTN home internet is fast and reliable and is a great choice for many internet customers. If you are interested in steaming or gaming, fiber optic unlimited internet is likely the best choice. The primary downside to this service is that FTTN internet is not yet available in every neighborhood. You'll have to consist some individual research to learn whether or not FTTN internet is a viable option in your area.
Related: 5 Best Internet Providers in Kitchener, Canada
Cable Internet
If you are familiar with cable television, you likely already have a good understanding of cable internet and its operation. Just like cable television, cable internet uses the same copper wire technology to send an internet signal from your service provider to your home at relatively high speeds compared to some other internet options.
Because cable TV and cable internet leverage the same infrastructure, the services are often provided in bundles by different TV providers at affordable prices. Factors like these also play a crucial role in making cable internet one of the most commonly-used forms of broadband services on the market.
With cable internet, the speed of your internet will likely vary due to your location, as cable internet speed relies on bandwidth. There are many factors that can affect bandwidth, including your personal internet package, your neighborhood internet usage, and your own personal data usage.
Are you currently looking for a new, top-quality provider of affordable TV, internet, phone, and home security services? Please consider contacting our team of trusted experts at VMedia today to learn about our range of entertainment, communication, and home protection options!
Which Type Is Right for Me?
Now that you understand the difference between FTTN and Cable internet, you'll be able to better select the one that's right for your internet-based needs. You will need to consider a wide range of factors before making your decision, such as the available bandwidth and the availability of the internet service type for your area. Aside from that, you'll also need to consider elements like cost, upload speed range, and download speed range.
In terms of availability, cable internet is a relatively accessible option and is available to many people, especially in more densely populated areas. There are vast cable networks that stretch across the country, and even underwater cables that allow cable TV and internet services to reach between regions separated by large expanses of water. Additionally, cable tends to be one of the most inexpensive internet options available alongside DSL, making it a preferred choice for those looking for decent internet access on a tight budget.
In contrast, FTTN internet has very low availability and isn't an option for those living in most areas. It's also much more expensive than cable. It isn't a top choice for many families limited to a lower budget, especially if they live in less populated areas where companies aren't likely to run fiber-optic lines.
When it comes to FTTN internet, the average speeds for downloads and uploads can vary based on the capabilities of different internet service providers (ISPs). In general, the typical download speed range for cable internet is between 10 – 500 Mbps, while the range for FTTN internet is between 50 – 200 Mbps. In terms of upload speeds, the typical range for cable internet is 5 – 50 Mbps, while the range for FTTN internet is between 10 – 50 Mbps.
It's important to talk openly with your ISP to learn about what they offer as part of their unique internet package services. Depending on your work and entertainment needs, you may want to select one of their more expensive plans to obtain a more reliable performance.
Related: How To Switch Internet Providers: Simple & Easy Guide
How VMedia Can Help You Make The Right Choice For Your Internet Needs
If you are a frequent gamer or streamer, you will need a fast unlimited internet connection, and VMedia's Unlimited FTTN 50 Mbps (check availability) could be the plan to suit your needs. The plan is currently available at a reduced price of only $34.95 for the first six months before increasing to $54.95. The offer also comes with the bonus of free equipment installation, which can save you as much as $230!
If you don't need the fastest internet service available but are still looking for quality internet performance, then a standard VMedia package like Cable 75 Mbps (check availability) may be a perfect fit for you. This plan is currently available for only $43.95 for the first six months before increasing to the still reasonable price of $63.95. Like the Unlimited 50 Mbps plan, this option also features the bonus of free equipment installation, which can save new customers as much as $110.
Please keep in mind that your internet usage needs will have a lot to do with which option is best for you. If you don't think the two plans above are the right fit, don't worry! Our specialized team of internet connectivity experts offers a wide selection of top-quality internet services to meet everyone's unique needs.
At VMedia, we proudly offer a range of speeds to our customers for every bandwidth and household budget– all with unlimited plans– at the lowest prices in the market. We are available in all provinces, from coast to coast, and there are no contracts!
Some of our most advantageous Internet plans include:
FTTN 50 for $34.95/month

(original price $54.95)

Cable 75

for $43.95/month (original price $63.95)

Cable 400 for $64.95/month in Quebec (original price $84.95)

Cable 300

for $61.95/month in British Columbia, Alberta, Saskatchewan, and Manitoba

Cable 300

for $59.95/month in Prince Edward Island and Nova Scotia (original price $69.95)
Not all of our internet options are available in all areas, so please check that your preferred plan is offered where you live by inputting your postal code into the search feature on our website when browsing our featured plans. Please feel free to reach out to us through our website to learn more about our wide selection of internet, TV, phone, and home security services, or call us at +1-855-333-8269.
When selecting the best possible TV and internet service provider to meet your family's needs for a reasonable price, it can be challenging to choose between all of the companies available. Our experts at VMedia are proud to offer a wide selection of unique services at some of the best prices!