VCloudTV Platform Transforms TV Viewing Experience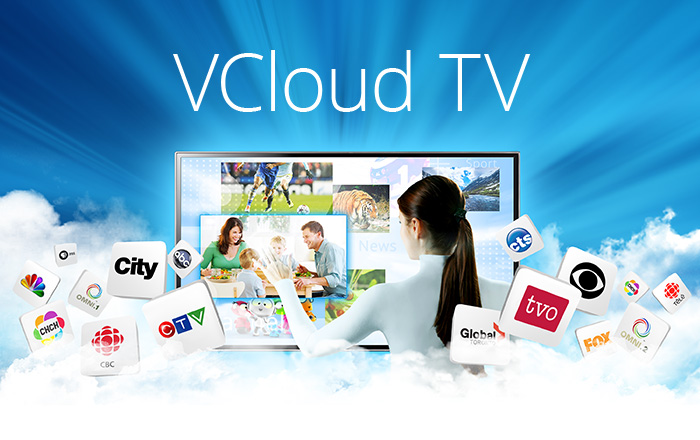 TORONTO, Ontario, April 2, 2014 – VMedia is pleased to announce the launch of VCloud TV PVR, the first feature of its industry-leading VCloud TV platform – Canada's first cloud-based TV distribution technology. For the first time, Canadians will be able to conveniently record and enjoy their favourite TV shows without expensive hardware.
VMedia, the only independent IPTV and internet service provider available throughout the Province of Ontario, is marking the first anniversary of the launch of its TV service with the introduction of the VCloud TV platform, a unique new way to enjoy TV shows, movies, sports, news and social media. With the ultimate objective of delivering all TV channels to all screens – TV, tablet, mobile – truly anywhere and at anytime, untethered by tangled wires linked to expensive hardware, VCloud TV today launches its first feature, a net PVR solution which allows VMedia subscribers to watch their favourite TV shows at anytime without any costly PVR hardware, or complicated recording and retrieval process.
"The mainstream television distribution industry is facing tremendous challenges from all sides," said George Burger, Director, VMedia Inc., "and it is essential that we facilitate access to the content people want to watch, whatever its legitimate source, in the most affordable and technologically superior way possible. VCloud TV has been created to do exactly that, and our net PVR solution is the first great benefit that VCloud TV has to offer Canadians."
Initially VCloud TV's net PVR solution will access sixteen local over the air channels, including CTV, CBC, Global,SRC, CityTV, NBC, CBS, ABC, FOX, PBS as well as TVO, CHCH, CTS, CTV2Barrie, OMNI1 and OMNI2. Consumers want easy access to their shows, and VMedia will seek to negotiate rights from specialty channel providers to enable the VCloudTV platform to facilitate the time-shift viewing of those services as well.
"We have been developing the VCloud TV technology for the past number of years, with the intention of providing the most flexible, uncomplicated and best value solution to enjoying the TV experience," said Alexei Tchernobrivets, Chief Executive Officer of VMedia and leader of its development team. "It is with great pride that we introduce a feature that addresses the demands of Canadian consumers for easy access to their TV content – this new way of watching."
The VCloud TV net PVR solution features a fast, intuitive interface, the kind that has become a trademark of the VMedia experience. A subscriber who is entitled to receive a particular channel can authorize VMedia to record shows on that channel, for later viewing by the subscriber at anytime up to seven days following the linear broadcast of the show. The viewing window may be lengthened as server space is expanded, depending on demand.
VMedia Inc., based in Toronto, Ontario, is an innovative IPTV and internet service, and the only alternative to Rogers and Bell available throughout Ontario. Comprised of a team of software engineers and content industry executives, VMedia's cool and highly affordable TV solutions offer value, choice and flexibility, enabling consumers to seamlessly enjoy conventional TV, over the top content, video on demand, social media and apps, delivering choice and flexibility. Launched in April, 2013, VMedia's high-speed internet, TV and phone triple play, together with its unique VBox, which delivers both TV and over the top internet content such as Netflix to Canadians on their TVs, is available throughout Ontario.