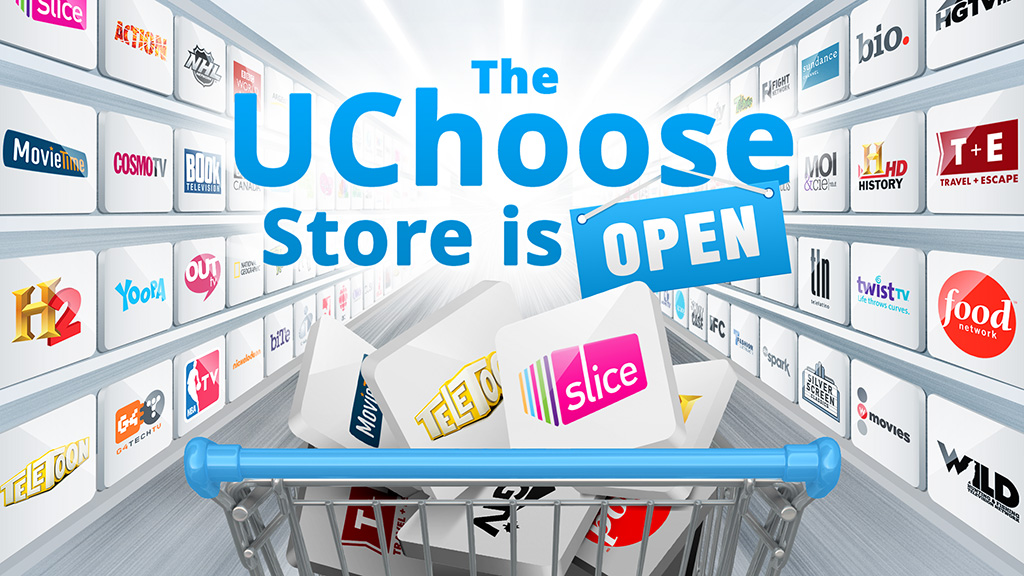 VMedia's UChoose Store Unique in Ontario
TORONTO, Ontario, December 9, 2013 — VMedia is pleased to announce the launch of the first 'pick a pack' TV option now available to consumers in Ontario. Offering unmatched choice and flexibility, VMedia's unique, online UChoose Store features over 60 terrific channels available as standalones, and over 40 that can be selected as part of a 'pick a pack'. With UChoose, TV subscribers can build their own channel packages and personalize their own TV channel line-up.
"Canadians are entitled to pay only for those channels they want to watch," said George Burger, a Director of VMedia Inc. "Combined with the exceptional value of our Premium Basic and Basic packages, the UChoose Store is a great solution for subscribers who want to customize their entertainment options, and save money at the same time."
With the UChoose Store, consumers can now assemble packages that include popular channels like Showcase, History, Food Network, FX/Canada, Slice, MTV2 and NHL Network, and in doing so reduce the per channel cost of channels in the package. As standalone channels, most of the channels in The UChoose Store are $2.25/month each, and for those channels which can be selected in 'pick a packs', the cost can be reduced to as little as $1.50 per channel.
"We have put virtually all the channels that our agreements with the networks allow into the UChoose Store," said Burger, "which is over half of VMedia's specialty channel lineup."
Subscribers can select and switch UChoose channels online at any time with VMedia's unique proprietary interface and advanced shopping cart capability. Easy clicks to purchase channels through the subscriber's 'My Account' portal and the channel is up on the TV screen immediately.
"The development of the UChoose Store platform involved many months of hard work," said Alexei Tchernobrivets, Chief Executive Officer of VMedia Inc. "New opportunities to further improve the technology kept coming up, and we couldn't resist implementing them. We are very happy with the result, and we hope our subscribers will be too."
VMedia Inc., based in Toronto, Ontario, is an innovative IPTV and internet service, and the only alternative to Rogers and Bell broadcasting distribution services available throughout Ontario. Comprised of a team of software engineers and content industry executives, VMedia has developed an innovative new platform which every Canadian can afford that allows consumers to seamlessly move between conventional TV, over the top content, video on demand, social media and apps, delivering choice and flexibility. Launched in April, 2013, VMedia's high-speed internet, TV and phone triple play, together with its unique VBox, which delivers both TV and over the top internet content such as Netflix to Canadians on their TVs, is available throughout Ontario.