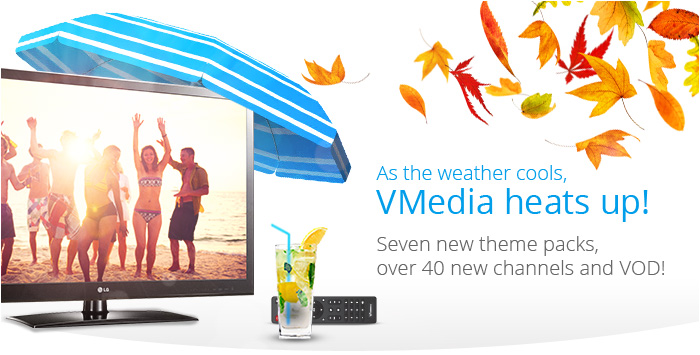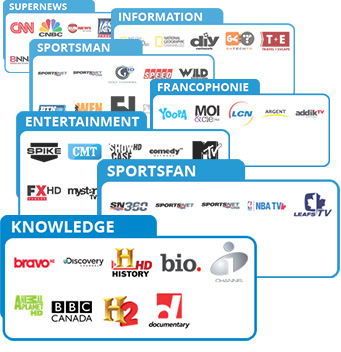 Welcome back everyone, back to work, back to school, back to sweaters and jackets– back to real life!
Since we'll all be spending more time indoors, VMedia is pleased to announce that we are releasing our remaining Theme Packs. We can now offer you seven terrific new packages – Entertainment, SportsFan and Sportsman* (individually, or together in our Sports Combo), Knowledge, Information, SuperNews* and Francophonie will all be up and running starting today.
Each one of these packages has a great collection of popular channels you want to watch, so have a look and sign up for them now! And look for those special combo prices!
Even better value with Premium Basic.
VMedia's 40 new channels are packaged for value, interest and flexibility, and the pricing is even more attractive when purchased in combination with Premium Basic. For example, Entertainment, with 11 channels, is $10.95, but if you subscribe to Premium Basic, it is only $5.95, because four channels in the package are already in Premium Basic. This is a great deal because you get to apply the $5 saving against your Premium Basic package, and get another seven channels for $5.95!
If you just want sports, you can take the Sports Combo, both SportsFan and SportsMan* with a total of 15 channels including Sportsnet and SportsnetOne, for $18.95, or just $12.95 with Premium Basic.
Take a look, and take advantage of this great offer.
Now – VMedia VOD, at no extra cost!
We are also pleased to introduce the launch of the first in a series of Video-on-Demand services – TMN/HBO VOD. This will be a particular treat for movie lovers, and Boardwalk Empire fans like us! Watch Nucky, Capone, Luciano, Lansky and the mysterious Dr. Narcisse! The evolving themes of racism, anti-semitism and class struggle make this show as complex and entertaining as The Sopranos.
And our VOD service will be available to you on our quick-loading, easy-to-navigate VBox interface, all at no extra cost. So enjoy!
You can access our VOD on the VBox Main Menu by going to "Videos" and clicking on "Movies" (Video/Movies). We will be changing "Movies" to "VOD" on our next upgrade.
Now you can watch all of your favourite shows like Game of Thrones, Strike Back!, Banshee, Californication, True Blood and more, at your leisure, through our fast-loading, smooth interface. Our VOD is second to none when it comes to ease of navigation, and we look forward to adding other channels to our VOD platform– as well as movie and series rentals – in the coming months.
All of this at no extra cost. So enjoy!
*The Golf Channel is not yet available on SportsMan, and MSNBC and CNBC are not yet available on SuperNews. Until they are these packages and the combos they are in will be reduced by $1 and $2 respectively.