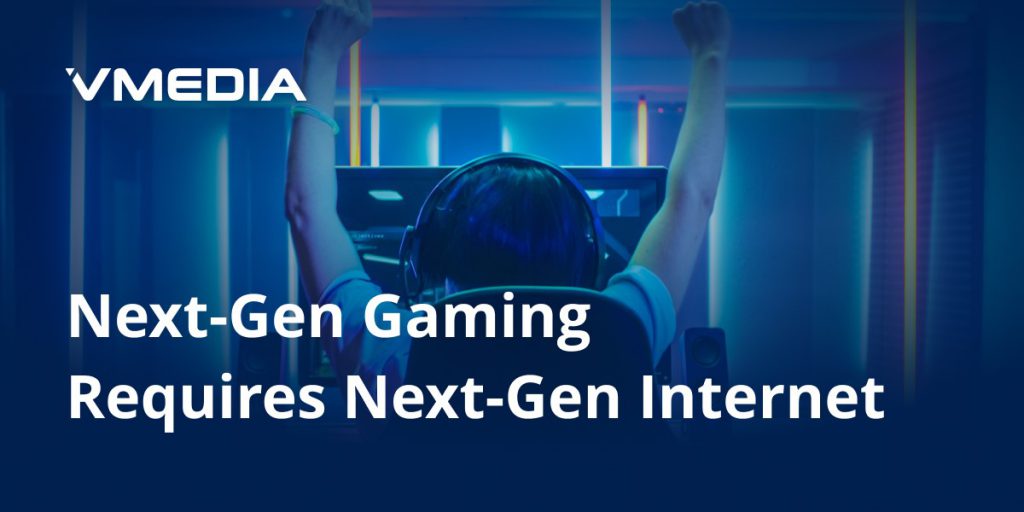 Two years ago, video game lovers across the world celebrated the long-awaited launch of both the Xbox Series X and PlayStation 5, two highly anticipated systems that serve as the uncontested crown jewels of the eighth generation of new gaming consoles. The release of these systems was one of the most highly anticipated events of the entire year for gamers, and though the excitement has lessened considerably after two years on the market, many people still hold the new consoles in high regard.
The systems themselves aren't often enough to support many people's preferred gaming methods, especially those who favour massively multiplayer online games (MMOs). In the current age of connective play, next-generation gaming typically requires access to next-generation internet for optimal, uninterrupted performance.
Below, our specialized team of internet providers at VMedia will dive into the essential basics you need to understand about how internet speeds, ping rates, and more will impact your gaming experience and explain what we can do to help keep your campaigns running as smoothly as possible.
Related: Take Your Internet Speed to the Next Level with VMedia's 1 Gigabit Plan!
System Launches
The PlayStation 5 hit stores on November 12, 2020, and the Xbox Series X launched two days earlier on November 10, 2020. There was massive excitement surrounding the launch of both systems due to the abnormally long wait period between the release of the seventh and eighth generation of new consoles. While previous generations were typically released on a five to six-year cycle, gaming fans had to wait approximately eight years for this particular release.
That wait was not in vain, however, as most fans of the various systems were highly pleased with the performance and abilities of each console, primarily because of their backward compatibility with previous consol generation games. This feature is a rarity for both Xbox and Play Station systems, so people were thrilled to learn they could continue playing old favorites on the new systems. Said backward compatibility also helped bolster the multi-generation competition between both system types, and gamers everywhere were quick to start discussing which console was superior.
PlayStation 5
People were thrilled when Sony finally revealed what the PlayStation 5 looks like, which is understandable, considering it's a pretty hefty beast. This curvy black and white tower stands high above the Xbox Series X. The system is available in two versions, one with an optical drive (an Ultra HD Blu-ray player capable of playing 4K media) and a digital-only version that relies entirely on downloaded and streaming games and media.
Xbox Series X
The design element is particularly interesting because the Xbox Series X looks very different from any previous model. In fact, it looks more like a PC desktop than any kind of game console, with a vertical tower design. That big size means Microsoft can stuff some impressive hardware into the console. The Xbox Series X is built around a 3.8GHz octa-core AMD Zen 2 CPU and a 52-core GPU capable of processing 12 teraflops. The console also features 16GB of GDDR6 RAM and a 1TB SSD, which in terms of pure power and capacity puts it right in the realm of a capable gaming PC.
Is your current internet plan strong enough to effectively support all of your hard-core gaming sessions and connectivity needs? Next-generation gaming requires next-generation internet service, so contact our experts at VMedia today to learn how we can help.
Ping Rate/Latency – Gamers Explain
Internet speeds are important for a good online gaming experience; Internet Service Providers generally provide enough speed to handle most games. Slow and/or disruptive gameplay is usually caused by high Ping Rate/latency. Generally, a "low ping rate" is preferable, especially for those games where timing and position are particularly important.
For example, the ping rate in first-person shooter games, real-time strategy games, racing games, and multiplayer games means faster speeds in transferring data and receiving the server's response, ultimately resulting in much smoother gameplay.
Those with a high ping will likely experience delays (or lags) while playing the game, which will ultimately affect the game's outcome. In fact, at even higher amounts, the servers of many First Person Shooter games will automatically disconnect the players.
Lag is commonly caused by high ping rate/latency. However, it may also be caused by insufficient power within the central processing unit (CPU) or graphics card (GPU), or lower system (RAM) or video (VRAM) memory.
Related: How To Switch Internet Providers: Simple & Easy Guide
What's Your Best Option?
There are several key factors that determine the kind of internet speed you need to run your games effectively. These elements include the game's graphics and the presence of other players via an online connection and other essential features like keyboard, mouse, and controller input, player location, current world state, and server notifications.
In general, a fixed-line, wired connection enables more consistent data flow than wireless connections, resulting in lower latency as well as smoother gameplay. As far as service plans, most games require a broadband connection of at least 20 to 25 Mbps download speeds with unlimited data. These minimums are essential for those who leverage the internet for competitive online gaming or MMOs that attract massive audiences at a single time.
Those with internet who can't meet these minimums are typically at very high risk for lag, which can severely inhibit gaming performance. There are few things worse than fighting for your character's life in an all-out gaming brawl, only to have everything freeze or have the game drop entirely due to poor internet connection speeds.
That said, we want to emphasize that these are minimum spec recommendations for internet performance when it comes to gaming. Many games out there require stronger, faster, and more stable internet connections to perform well without encountering any issues, especially if they leverage highly detailed graphics. As even more advanced games are developed going forward, the need for quality internet services will only become more critical for serious gamers.
As explored in the sections above, our trusted team of internet experts at VMedia has a massive range of internet plans designed to meet all of the unique needs of our customers, and gamers are no exception!
Top Internet Plans to Support All of Your Gaming Needs
Here are some of our best Unlimited Internet plans that will keep you connected and gaming for hours. (Check availability):
Related: Best Affordable TV & Internet Bundles in Canada
Take Your Gaming to The Next Level With VMedia Today!
Even after two years on the market, the Xbox Series X and PlayStation 5 gaming consoles haven't lost their popularity, and gamers worldwide are still enjoying the fantastic gaming experience that both systems are built to provide. To help ensure you can make the most out of your gaming sessions with these systems and to prepare yourself for the eventual launch of even better consoles in the future, it's essential you partner with a top-quality internet service provider (ISP) that can deliver a fast and reliable internet connection.
As of now, there's never been a more perfect time to switch to VMedia! Gamers are constantly making the move to our company to take advantage of the impressive speeds, low latency, and very competitive pricing that we're proud to provide.
If you're ready to make the switch yourself to start leveraging the best gaming experience possible, please reach out to our team today online or call us at +1-855-333-8269 to learn about the services we provide in your area. We also welcome you to read through some of our blog's expertly written educational resources. We cover everything from information on top TV programs to tips and tricks on taking your internet speeds to the next level.
Are your hardcore gaming sessions frequently interrupted by weak internet connectivity that ruins your progress? Consider contacting our trusted internet providers at VMedia today to learn about our wide range of top-quality internet plans that can help you game without lag and dropped connections.