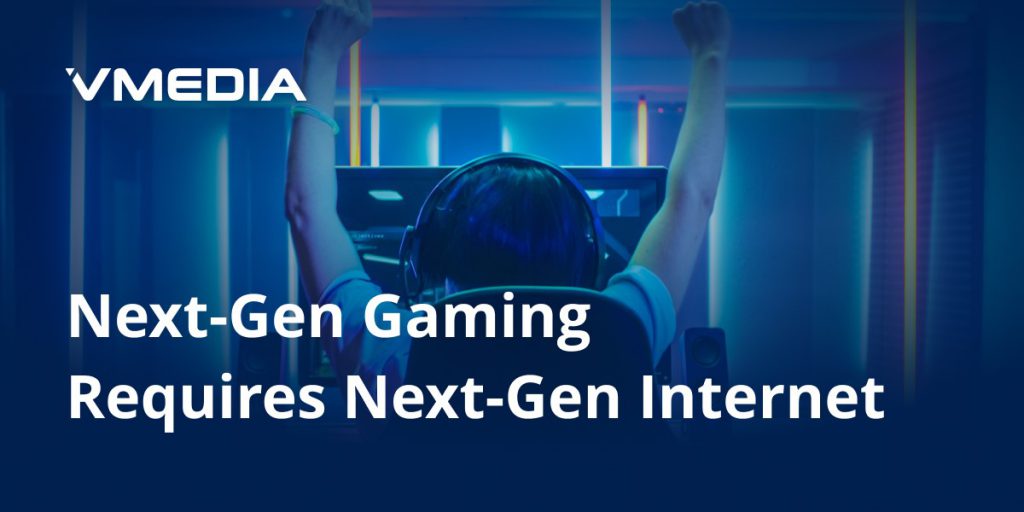 The all new Xbox Series X and PlayStation 5 are finally here!
This has been one of the most highly anticipated events of the entire year for gamers! So let's dive into everything from Next-Gen Gaming to Next-Gen Internet Speeds to Ping Rate Talk. VMedia has you covered!
System Launches
The PlayStation 5 hit stores on November 12 and the Xbox Series X launched two days earlier on November 10, 2020.
PlayStation 5
Sony has finally revealed what the PlayStation 5 looks like, and it's a pretty hefty beast. This curvy black and white tower stands high above the Xbox Series X. The system is available in two versions, one with an optical drive (an Ultra HD Blu-ray player capable of playing 4K media) and a digital-only version that relies entirely on downloaded and streaming games and media.
Xbox Series X
The design element is particularly interesting because the Xbox Series X looks very different from any previous model. In fact, it looks more like a PC desktop than any kind of game console, with a vertical tower design. That big size means Microsoft can stuff some impressive hardware into the console. The Xbox Series X is built around a 3.8GHz octa-core AMD Zen 2 CPU and a 52-core GPU capable of processing 12 teraflops. The console also features 16GB of GDDR6 RAM and a 1TB SSD, which in terms of pure power and capacity puts it right in the realm of a capable gaming PC.
Uber gamers want the best internet speeds, and VMedia's got what you need!
Here are some of our best Unlimited Internet plans that will keep you connected and gaming for hours. (Check availability):
Cable 75 – $58.95 / month (1 Month FREE) – Ontario
FTTN 50 – $49.95 / month (2 Months FREE) – Ontario
Cable 400 – $69.95 / 2 month Promo – Quebec (Regular price $78.95/ month)
Cable 300 – $61.95 / 2 month Promo – British Columbia, Alberta, Saskatchewan and Manitoba (Regular price $78.95/ month)
Cable 300 – $ 59.95 / month – Prince Edward Island and Nova Scotia (original price $69.95)
Ping Rate/Latency – Gamers Explain
Internet speeds are important for a good online gaming experience; Internet Service Providers generally provide enough speed to handle most games. Slow and/or disruptive gameplay is usually caused by high Ping Rate/latency. Generally, a "low ping rate" is preferable, especially for those games where timing and position are particularly important.
For example, ping rate in first-person shooter games, real-time strategy games, racing games, and multiplayer games means faster speeds transferring data and receiving the server's response, ultimately resulting in a much smoother gameplay.
Those with a high ping will likely experience delays (or lags) while playing the game, which will ultimately affect the game's outcome. In fact, at even higher amounts, the servers of many First Person Shooter games will automatically disconnect the players.
Lag is commonly caused by high ping rate/latency. However, it may also be caused by insufficient power within the central processing unit (CPU) or graphics card (GPU), or lower system (RAM) or video (VRAM) memory.
What's your best option?
A fixed-line, wired connection enables more consistent data flow than wireless connections, resulting in lower latency as well as smoother gameplay. As far as service plans, most games require a broadband connection of at least 25 Mbps download speeds with unlimited data.
This is the perfect time to switch to VMedia!
Gamers are making the move to VMedia, with impressive speeds, low latency, and very competitive pricing.
For the best gaming experience, switch to VMedia and get Next-Gen Internet Speeds that address all your Next-Gen Gaming Needs!
VMedia Internet – Unlimited Plans. Unlimited Gaming.