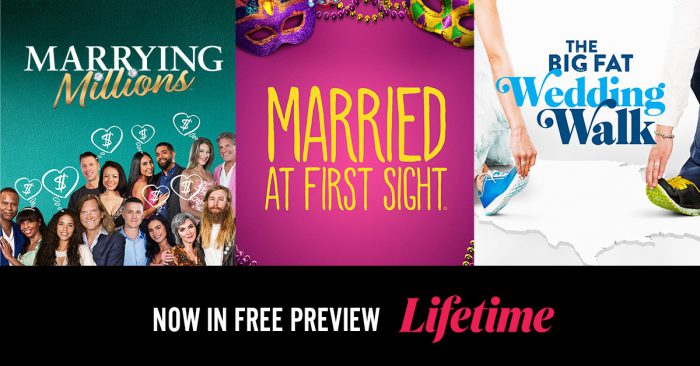 VMedia is pleased to offer you a Free Preview of Lifetime from November 1st to December 13th.
Lifetime is the ultimate women's channel, with stories for women, made by women. Featuring exclusive movies, award-winning dramas and exciting reality series, Lifetime empowers women through the transformative power of entertainment.
Lifetime Network is on channel #83 in your channel line-up in all provinces with the exception of Quebec where it is on channel #223.
Here's a list of exciting binge-worthy programs you won't want to miss:
Marrying Millions -New Season – November 10th Wednesdays – 10PM
Take an incredibly wealthy individual, throw in a romance with someone from the opposite end of the income scale, and what do you get? A docuseries that explores whether love and happiness can truly exist between a member of the champagne and caviar set and someone more accustomed to a life of, say, canned beer and ramen noodles.
Married at First Site – Season Finale – November 4th, 9PM
A group of singles agree to marry partners chosen for them by a team of relationship experts. Looking forward to a perfect match, they meet their mates for the first time on their wedding day.
The Big Fat Wedding Walk – New Series – November 25th, Wednesdays 9PM
This new series follows the raw and authentic journey of couples desperate to lose weight before their big day by walking the longest 'aisle' in wedding history.
Lifetime Movies – Sundays 8PM
Lifetime original movies. There are celebrity/newsworthy biopics, and then there are suspenseful thrillers and romances with a twist. The movies have become a cultural phenomenon, enjoyed by all who seek escape with a little edge.
Lifetime is available in our popular Grand Premium TV package for $70.95/month. Sign up now and you can get 1 month Free!
You can also add the Lifetime to your VMedia TV lineup with our Style and Style/Living Combo theme packs, or get it for as low as $2.95/month from our UChoose store. Sign up today!
VMedia – More Content. More Enjoyment.