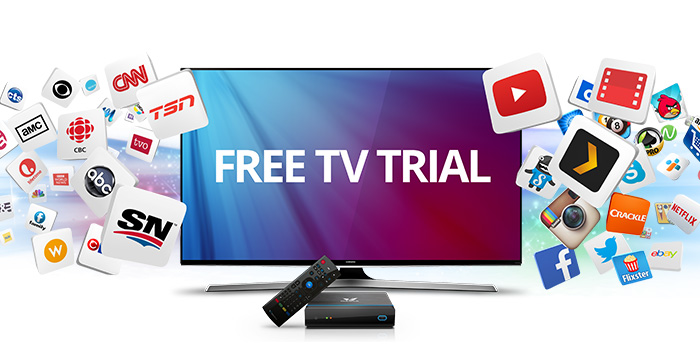 Yes – you can now try VMedia TV and all our cool features FREE for one entire month!
We want you to experience all the great features and benefits of VMedia TV, so we are offering a one month FREE TRIAL on any of our 'starter' TV packages.
That's right. Try one of our three 'starter' TV packages – TheSkinny, Basic or our most popular, Premium Basic – and you can test our great VBox set top box and media player for one month on us! All your favourite TV channels, our unique Anytime TV feature and access to Netflix, YouTube, and hundreds of apps on your TV, and more. A whole new way of watching!
If you are not satisfied, and you return the VBox to us within 30 days, we will refund all your TV – related costs.
As an IPTV provider, you will need VMedia's Internet service in order to get VMedia's advanced TV/Apps platform – and the good news is VMedia has great internet plans at low prices with no contracts and no limits.
There has never been a better time to find out why VMedia is a whole new way of watching!
You can see for yourself why VMedia is Canada's best value and most innovative TV service offering.
Lowest Prices, More Choice and Flexibility

TV packages with the best set of channels for the best price.

'Build your own' channel lineup with over 20 theme packs – Kids, Sports, Lifestyle, Knowledge and more.

Select from over 70 individual channels in our UChoose store for as low as $1.50 per channel.

Great TV Features

The VBox powers all your favourite TV channels, VOD, PVR, our unique VCloud TV and more.

VCloud TV – Scroll back and watch any program on 25 channels broadcasted within the past week.

PVR – No storage limits, use your own USB drive.

Apps on Your TV

World of apps on the big TV screen.

Netflix, YouTube, Movies, Music, Games, Social, Browser and more.

Turns your TV into a 'Smart' TV.
Try VMedia TV today – a whole new way of watching!