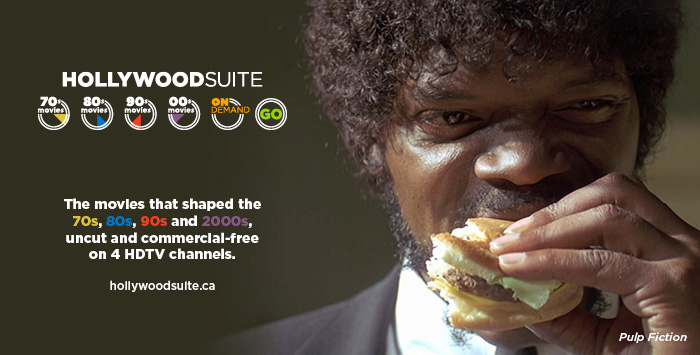 Hollywood Suite, home of the movies that shaped the 70s, 80s, 90s and 2000s rebranded its four movie channels. Now called Hollywood Suite 70s (channel # 446), Hollywood Suite 80s (channel # 447), Hollywood Suite 90s (channel # 448), and Hollywood Suite 00s (channel # 449), replacing Warner Films, MGM, AXN Movies and Sony Movies.
Enjoy hundreds of movies every month and the best of the Hollywood film industry for under $6.00/month – all uncut and commercial free. There's always something to watch on Hollywood Suite. You can also watch on the go with the Hollywood Suite GO app and VOD is coming soon.
Subscribe to Hollywood Suite today and get your first 3 months FREE!
High Travoltage
Ever since he strutted through the opening credits of Saturday Night Fever in 1977, John Travolta's been Stayin' Alive. The success of Grease and Urban Cowboy solidified his stardom, but throughout the 80s he struggled to attract the attention of audiences or critics. Stellar back-to-back mid-90s performances in Pulp Fiction and Get Shorty earned awards and nominations and rejuvenated his career. Later, movies like Swordfish added "mastermind action-film super-villain" to his repertoire and box office appeal. Join Hollywood Suite November 13–15 for a look back on the career of John Travolta, a man as popular (and polarizing) today as he was in the days of disco.
This month on Hollywood Suite
Hollywood Suite 70s Movies—channel 486
Network, November 8
National Lampoon's Animal House, November 11
Saturday Night Fever, November 13
Chinatown, November 20
Taxi Driver, November 28
Hollywood Suite 80s Movies—channel 487
Flashdance, November 6
The Goonies, November 20
Top Gun, November 21
Ferris Bueller's Day Off, November 27
An Officer and a Gentleman, November 28
Hollywood Suite 90s Movies—channel 488
Clueless, November 7
Pulp Fiction, November 15
The Shawshank Redemption, November 17
Days of Thunder, November 21
Mission: Impossible, November 29
Hollywood Suite 00s Movies—channel 489
Superbad, November 8
Closer, November 15
Blow, November 21
Ocean's Eleven, November 22
I Am Sam, November 28