Complaints
Making a Complaint
VMedia prides itself on putting our customers first. If you feel we have let you down, here is how to bring a complaint to our attention for review.
Step 1: Tell us your concern. The best way to resolve a problem is to bring it to our attention as early as possible. As soon as you notice an issue, please let us know -- by either phone, chat, or email. Our dedicated Team will review your concern and do our utmost to ensure it is addressed to your satisfaction.
Step 2: Work with our Team. Have your full name, service address, telephone number, and account number ready when working with our Team to resolve your concern.  Our experienced Team is extensively trained and will work diligently with you to determine the best outcome possible.
Step 3: Request an Escalation Our Team is resolution-oriented, empowered, and experienced at addressing concerns efficient and effectively. If you feel your concern is not being addressed to your satisfaction, request an escalation so we can review your account and interactions, to ensure the best possible resolution is being offered.
Commission for Complaints for Telecom-Television Services. The CCTS is an independent agency whose mandate is to resolve consumers' complaints about their telecom and TV service - free of charge. If you have tried to resolve a complaint about your service with VMedia, but were not able to reach a satisfactory resolution, CCTS may be able to help. Visit its website, at www.ccts-cprst.ca, or call toll-free: 1-888-221-1687 for more information.
---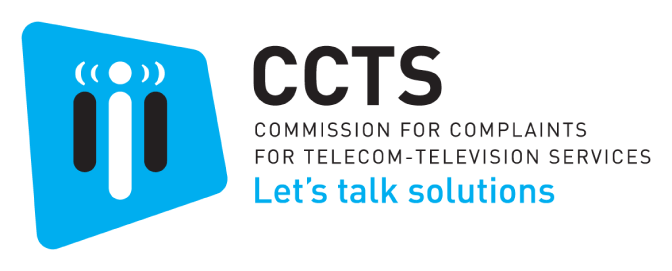 Do you have a complaint regarding a telecom or residential TV service that we haven't been able to resolve? The independent Commission for Complaints for Telecom-television Services (CCTS) may be able to assist you free of charge: www.ccts-cprst.ca or 1-888-221-1687.
complaint
dispute
CRTC
CCTS
commission
ombudsman
---