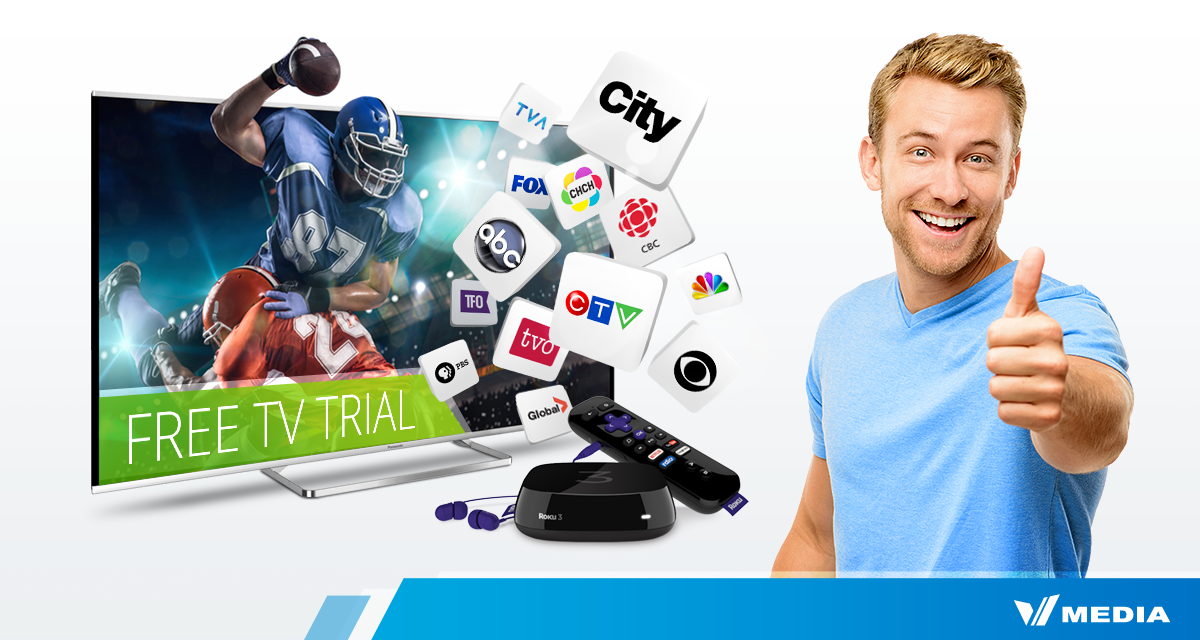 TORONTO, Canada – VMedia Inc. today announced the launch of its VMedia TV streaming channel on the Roku® streaming platform in Canada. With VMedia TV, consumers will be able to watch up to 20 live TV channels, including Canadian and US networks such as CTV, CBC, GLOBAL, ICI, TVA and V, as well as CBS, NBC, ABC, FOX and PBS, all in HD – streamed to their TVs for convenient viewing from the comfort of home.
VMedia TV is available as of tomorrow on Roku TVs and streaming players in Canada, joining Roku's wealth of 2500+ streaming channels targeted at Canadian consumers.
Canadians with a Roku player or Roku TV™ will be able to access VMedia TV and register directly with VMedia through their device, and immediately start to enjoy a free 7-day trial offering all the channels. In addition, VMedia TV features VMedia's unique VCloud cloud-based 'look back' feature, which allows users to catch up on shows they missed in the past week.
After the free 7-day trial, Canadians can subscribe to VMedia TV for only $17.95 per month. The service requires no commitment or contract, credit check or hardware installation, and customers can cancel anytime.
"VMedia's mission is to make the live TV experience enjoyable, affordable and accessible – we aim to keep live TV an important part of everyone's entertainment universe," said Alexei Tchernobrivets, Co-Founder and Chief Executive Officer of VMedia. "We are thrilled to work with Roku, which is a pioneer in delivering over the top content to the world. Roku users in Canada can now subscribe to live TV, from VMedia, directly through a Roku device. It doesn't get any easier, and they will get the benefit of the best live TV prices in the market."
VMedia, launched just three years ago, offers TV, internet and home phone services in Ontario, Quebec and the western provinces, and is able to reach over eight million Canadian homes. It is the only triple-play alternative to the major players available in all those markets, and now serves over 20,000 homes with its affordable and innovative services.
"VMedia is committed to providing Canadians with great prices, choice and flexibility, and innovation in their live TV experience," said George Burger, Co-Founder and Director, "and making our Skinny TV package available on the Roku platform meets all of those objectives. We are proud to launch our live TV service on Roku devices in Canada, which after Sling Television is the second in North America."
"Adding VMedia TV to the Roku Channel Store is great news for our Canadian customers. It enables them to watch live TV, from Canadian and US TV channels they are accustomed to, in addition to the wealth of on demand entertainment our platform offers," said Ziba Kaboli-Gerbrands, director content acquisition at Roku.
About VMedia
VMedia Inc., based in Toronto, Ontario, provides innovative TV, high-speed internet and home phone services, offering more choice and flexibility, unique features and lower prices than the major players. VMedia is the only alternative triple-play provider to those players available in Ontario, Quebec, British Columbia and Alberta. VMedia is a leader in IPTV and the company's cool, affordable TV platform delivers a whole new home entertainment experience.
Roku is a registered trademark and Roku TV is a trademark of Roku, Inc. in the U.S. and in other countries.
For further Information, please contact:
Susan Hershman
VMedia
[email protected]
416 – 523 – 6520