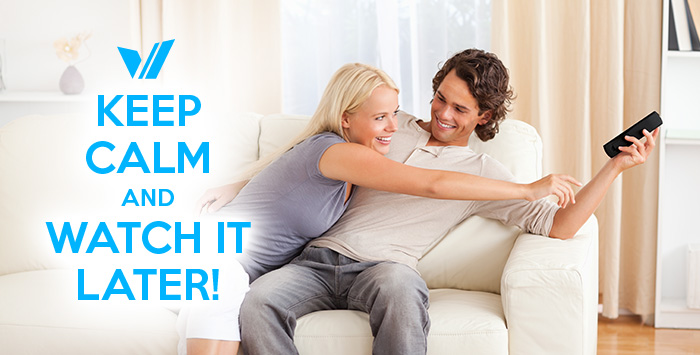 VMedia Introduces !
VMedia is very excited to announce the launch of our new PVR (BETA) function, one that will allow you to record any show, at any time, on any channels that you have subscribed for! This is a Beta release, so more features and improvements will be coming.
This PVR function, which we refer to as "client-side" PVR, is an innovation developed by VMedia to enable our TV subscribers to record a show while watching another. PVR is a companion to our unique VCloud TV platform, which already lets you record shows from 18 channels, including all the Canadian and U.S. networks, for up to seven days. Together they provide a dynamic solution for ensuring that you never miss your favourite shows.
PVR will be available at no extra charge as soon as you update your VBox with our latest upgrade, which you will see on your screen when you next turn on your VBox.
IMPORTANT: Please be sure to update your VBox by today. (You will need your username and password to log in the first time.) After today, you will not be able to use the VBox without deploying the update.
Now, if there is a show you want to watch later which is not on a VCloud TV channel, or is a show available on VCloudTV, but you want to watch it more than seven days after it is broadcast, PVR lets you record it. All you need is an SD Card or USB key (2.0), whichever works best for you – and of course, our great new PVR interface!
And PVR is available to everyone, with no need for a costly equipment upgrade! Just update the VBox when prompted, set up the service by following the instructions on your screen, and start recording!
You can record a show and watch another one at the same time. Like your TV service generally, the quality of what is recorded depends on the internet speed at which the stream is received by you.
Set-up and use are quick and intuitive. To set up, first insert your USB disk or SD card into your VBox.
Then go to the Main Menu, to Settings, and click on the new "Recordings" icon. You will see a window that will show your device, and ask you to enable it. Then click OK. You are all set to record!
If you want to record a show, simply highlight it on the TV Guide, press the Red button on your remote, and let the PVR do the rest.
When you want to watch your show, or check the status of your recordings, or the shows in queue, go to the Main Menu, to TV, and click the "Recordings" icon located there. Under your "Recordings" library, you can access all the shows you have recorded, and view a show being recorded or the ones in queue.
That's all there is to it! Fast, cool and easy to use!
More detailed FAQs are available on our website. Please complete your update today and enjoy VMedia's newest innovation, PVR for everyone!