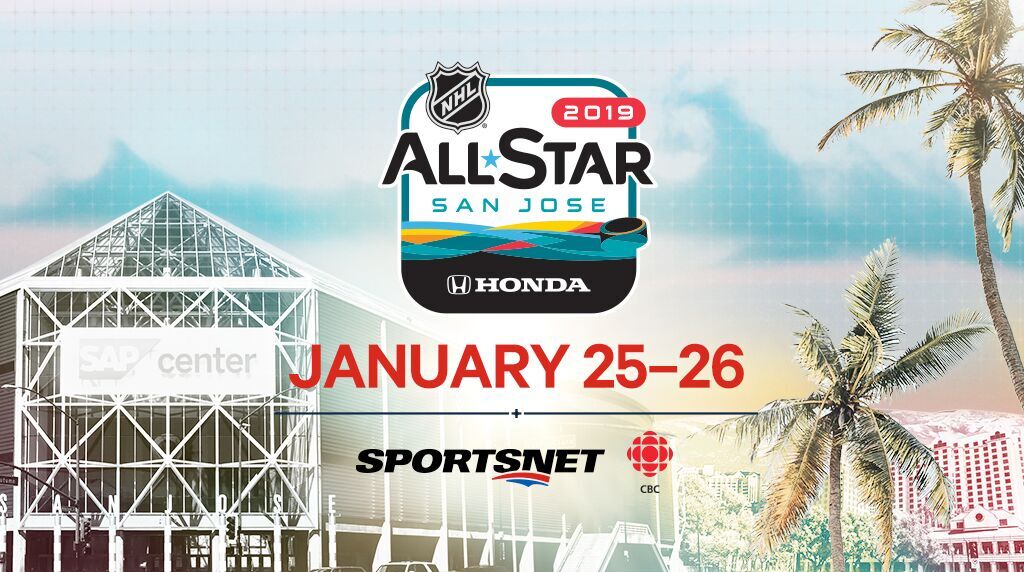 The City of San Jose and the Sharks host this year's NHL All Star Weekend. The league's mid-season showcase will take place at the SAP Center and features many of hockey's most dynamic players.
Tune in to Sportsnet or TVA Sports on Friday, January 25 at 8:00 PM EST to catch this year's NHL Skills Competition. Watch your favourite NHL superstars compete in individual competitions to determine who has the hardest shot, fastest skating, best passing, most accurate shot, and many more.
For the fourth straight year, the All-Star Game will feature a three-game tournament, played in a 3-on-3 format, showcasing teams from each NHL division. Catch all the action on Sportsnet and TVA Sports starting at 8:00 PM EST on Saturday, January 26.
Atlantic Division
Auston Matthew (C)
Jack Eichel
Nikita Kucherov
David Pastrnak
Steven Stamkos
John Tavares
Thomas Chabot
Keith Yandle
Jimmy Howard
Carey Price
Central Division
Nathan MacKinnon (C)
Patrick Kane
Ryan O'Reilly
Mikko Rantanen
Mark Scheifele
Blake Wheeler
Miro Heiskanen
Roman Josi
Devan Dubnyk
Pekka Rinne
Metropolitan Division
Sidney Crosby (C)
Sebastian Aho
Cam Atkinson
Mathew Barzal
Claude Giroux
Taylor Hall
John Carlson
Seth Jones
Braden Holtby
Henrik Lundqvist
Pacific Division
Connor McDavid (C)
Johnny Gaudreau
Clayton Keller
Joe Pavelski
Elias Petterson
Brent Burns
Drew Doughty
Erik Karlsson
Marc-Andre Fleury
John Gibson
NHL Skills Competition:
Bridgestone NHL Fastest Skater, where eight players will compete in a timed full lap around the rink.
Enterprise NHL Premier Passer, in which eight players will compete in three skills: Breakout Pass, Mini Nets and Target Passing. The player to complete all three skills in the fastest time wins.
Ticketmaster NHL Save Streak, where a minimum of 4 goalies and all 36 players will participate in a shootout grouped by division. Goalies must compete to make the consecutive saves.
Gatorade NHL Puck Control, where eight players will compete in a timed event that includes 3 skills: Stickhandling (a skater controls a puck through a series of ten pucks in a straight line), Cone Control (a skater controls a puck through a series of eight cones in a zig-zag) and Gates (where a skater approaches each gate and is required to shoot or guide the puck through the lit rung of the gate).
SAP NHL Hardest Shot, where four players will attempt two shots measured in miles per hour, with the highest speed of their shot being recorded.
Honda NHL Accuracy Shooting, where eight players will compete in a timed shooting competition where shooter is positioned 25 feet from the goal line and shoots the puck at 5 LED targets located in the net, as they are lit.
Enjoy Sportsnet in VMedia's Premium Sports TV package, featuring a wide range of popular sports channels, including MLB Network, Golf Channel, TSN, Sportsnet One, NFL Network, FOX Sports Racing, Game TV, and BIG Ten Network. Alternatively, add Sportsnet or TVA Sports to your existing TV line up through one of our great sports-centric theme packs, including: SuperSportsPack, Sports Combo, TVA Sports, SportsMan or Sportsnet Plus, from as little as $6.95/month.
VMedia TV – More Hockey.