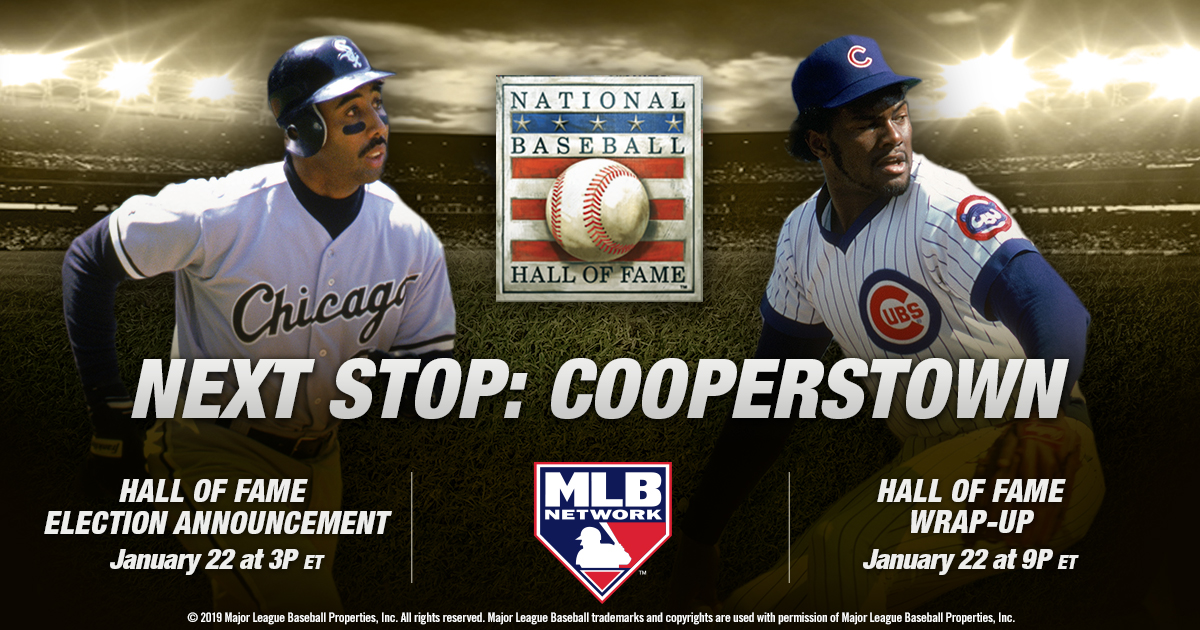 Batter up, baseball fans – it's time for the 2019 Hall of Fame class.
Over 400 ballots have been cast by the Baseball Writers' Association of America and on Tuesday, January 22, the 2019 Hall of Fame class will be announced. MLB Network will be your home for full coverage.
Here's everything you need to know about this year's event:

Eligibility:
A player's worthiness is considered under a broad spectrum of criteria ranging from the player's record, playing ability, integrity, sportsmanship, character and contribution to the team on which the player has played. This criteria is interpreted individually by each voter. A player must receive positive votes 75% of the submitted ballots for induction and appear on 5% to remain on the ballots for another year.
Past Inductees:
Last year, Vladimir Guerrero, Trevor Hoffman, Chipper Jones and Jim Thome were voted into the Hall of Fame and at least 2 players have been inducted into the Hall of Fame every year since 2014. Two members of the 2019 Hall of Fame class have already been confirmed – Harold Baines and Lee Smith, who were voted into Cooperstown by the Today's Game Committee (which covers 1988 to present).
2019 Class:
Among the 35 players on this year's ballot, there are several players with a high chance of being inducted: Roy Halladay, Edgar Martinez, Mike Mussina and Mariano Rivera. Most notable is Mariano Rivera of the Yankees, who currently polls at 100% of all public ballots. While this number may go down, the overwhelming support indicates he is as close as it gets to a lock for induction. Roger Clemens, Barry Bonds, and Curt Schilling are also in the running, only a few percentage points below the 75% needed to be inducted (per public ballots).
Who's headed to Cooperstown in 2019? Tune into MLB Network's exclusive coverage of today's announcement beginning at 3PM EST on Channel 77. MLB Network is your ultimate television destination for everything baseball, including multiple Emmy Award-winning "MLB Tonight", live regular season and Postseason game telecasts, original programming, news, highlights, and analysis from the best in the baseball business.
MLB Network is available in our popular sports theme packs, that you can add onto your TV lineup at any time – SportsFan, SportsMan, Sports Combo, SuperSportsPack, TSN Plus, Sportsnet Plus. You can also add the MLB Network individually for $4.95/month from our UChoose store.
VMedia TV – More Sports, More Action.