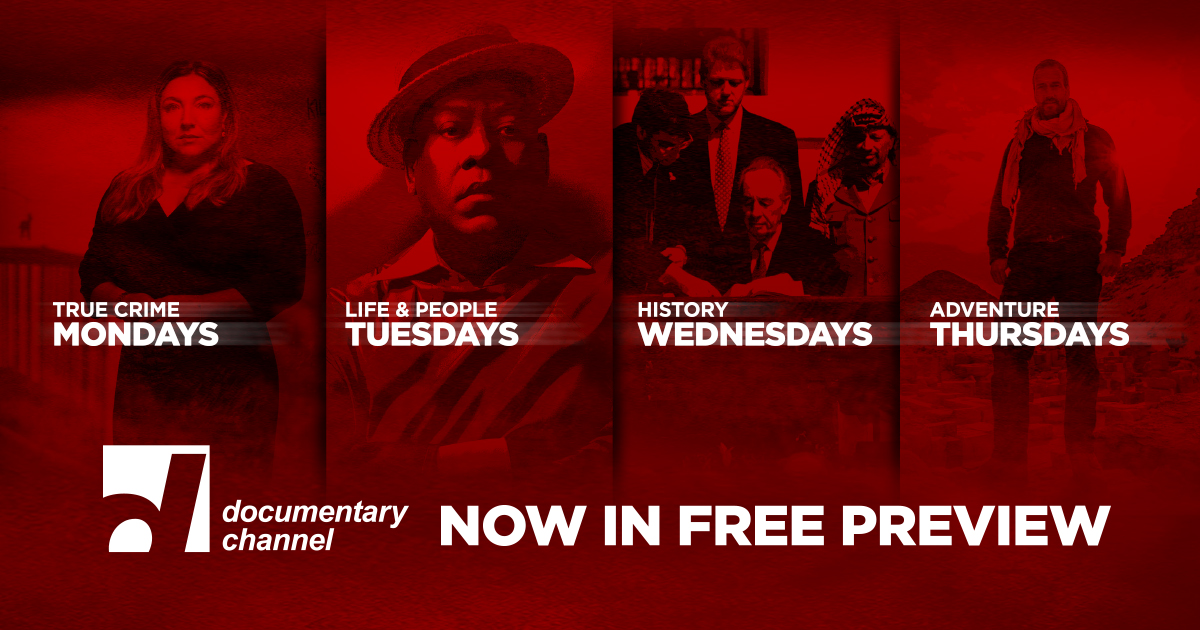 Lose yourself in reality with documentary Channel! Tune in until March 5th for a free preview of the best documentaries.
documentary Channel showcases the best documentary films and series from Canada and around the world. Enjoy themed programming such as True Crime Mondays, Life & People Tuesdays, History Wednesdays and Adventure Thursdays. These thematic nights explore a variety of popular interests anchored by Spotlight Sundays, focusing on feature length, critically-acclaimed films.
Where the Wild Men Are
January 31st, 10 PM EST
For the travel nuts dreaming of giving up their day job and getting away from the hustle of modern life – Ben Fogle takes this to new extremes as he lives with people who have moved to some of the most remote locations of the world: Canadian artists on the Pacific West Coast who have built a floating island; an American widow farming on the edge of the Sahara desert; an Iranian who left his medical career for a rugged island off the coast of New Zealand; a Brit patrolling Cambodian waters to stop the illegal trawler trade. Discover the reality of leaving your life behind with Where the Wild Men Are.

The Accountant of Auschwitz
February 3rd, 10 PM EST
This documentary highlights the case and trial of Oskar Groning, "the accountant of Auschwitz", who cataloged prisoners' confiscated possessions as they arrived and asks the question of why Germany is prosecuting former SS guards, now in their 90's, whom will never live to serve their jail sentences. At the center of the film is moral ambiguity as ethicists question whether it makes sense to prosecute someone so long after the fact; especially Groning as he claims he was a cog in the machine, not having killed anyone. Above all, The Accountant of Auschwitz reflects not only on one frail bookkeeper's penitence, but the world's responsibility to hold the worst of human horrors forever to public view.
The Gospel According to Andre
Febuary 12th, 10 PM EST
From his roots growing up in the segregated Jim Crow South to becoming one of the most influential taste-makers and fashion curators of our time, The Gospel According to Andre paints an intimate portrait of former Vogue Editor, André Leon Talley. We visit his childhood home in North Carolina, where he was raised by his strict churchgoing grandmother, hang out with his former classmates, and learn about the path of dedication and study he followed to become an authority on fashion. This documentary weaves together archival footage from the most glamourous moments in fashion history with André's poignant reflections on his life and career.
documentary Channel is available in our popular Grand Premium TV packages for $46.00/month ($67.95 after 6 months). You can also add documentary Channel to your TV lineup with our Knowledge theme pack or get it for as low as $1.50/month in our UChoose store. Sign up today!