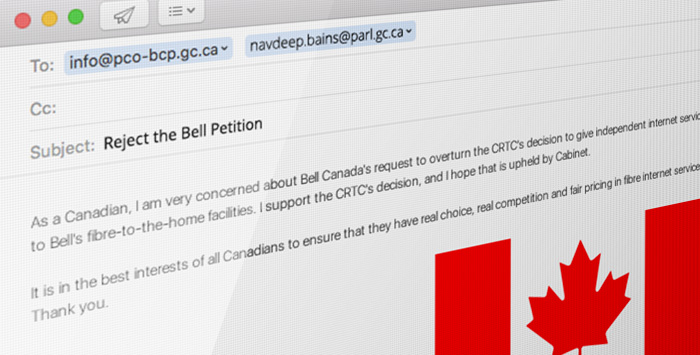 Act Now to Avoid Higher Prices and Less Choice.
Here is What You Can Do!
April 5, 2016 – In a recent blog post, VMedia notified our customers about a crucial matter currently before the Federal Cabinet.
Briefly, Bell Canada has submitted a petition to the Federal Cabinet asking it to roll back the CRTC's decision to give VMedia and other independent internet service providers (ISPs) access to Bell Canada's expanding fibre-to-the-home (FTTH) facilities. Under the CRTC decision ISPs will, of course, pay a fair price to Bell for that access.
The CRTC's decision allows VMedia and other ISPs to continue to provide high-speed internet services over fibre, crucial to ensuring that Canadians get choice and competitive pricing as the demand for speed, and internet costs, go up.
If Cabinet agrees to Bell's request, it will give Bell a monopoly over fibre internet in Eastern Canada. Bell Canada, already by far the dominant telecommunications and broadcasting company in the country, will regain the monopoly over telecom services that it had in the early 1990s. Then Bell controlled phone – now, it wants to control the internet.
If Cabinet allows Bell to regain its monopoly, this time over the internet, prices will increase dramatically. Without ISPs having access to FTTH, Bell will be able to charge Canadians increasingly high rates for an essential service, a utility. A utility which consumes nothing and costs Bell very, very little to supply once its investment in the fibre is recouped – in as little as three years!
More importantly, Bell will be positioned to become the gatekeeper for virtually all of the content that will come into your home – with the ability to restrict what you can choose to watch, and dictate how much you will pay for it.
Canadians will remember that under its telephone monopoly Bell Canada charged very high prices for long distance service, as high as $2.00 per minute for calls between Toronto and Montreal. Once its monopoly was taken from it, by allowing independent long distance providers to access Bell's lines, long distance prices fell to pennies per minute.
If you agree with VMedia's view that Canadians deserve real competition and real choice for their internet services, please let your opinion be heard. Your voice will make a difference.
You can participate two ways, and we encourage you to do both. They are:
1 Send an email

Send an email to the Clerk of the Privy Council, at [email protected], and to the minister responsible for telecom, the Honourable Navdeep Bains, at [email protected].

You may wish to consider a message in your email along these lines:

As a Canadian, I am very concerned about Bell Canada's request to overturn the CRTC's decision to give independent internet service providers access to Bell's fibre-to-the-home facilities. I support the CRTC's decision, and I hope that it is upheld by Cabinet.

It is in the best interests of all Canadians to ensure that we have real choice, real competition and fair pricing in fibre internet services

For this reason, I ask Cabinet to reject the Bell petition.

Thank you.

2 Sign the online petition

Sign the online petition set up by OpenMedia , which is leading an independent consumer advocacy campaign that you can find here.
We encourage you to send this email to friends and family, or direct them to this blog, so they may participate and have their voices heard as well.
We all want to do what we can to ensure that all Canadians continue to have choice in the internet services available in the market, and that no one entity will ever be able to control your access to all that the internet has to offer.
Thank you and make sure you are heard!