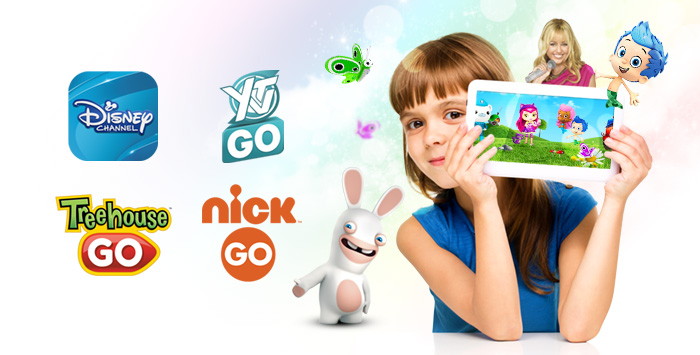 March 24th, 2016 – Hey Parents! We have just added four new kids channels to our list of Channel GO Apps. Now you and your family can watch popular shows from Disney, Treehouse, Nickelodeon and YTV on your iPad, iPhone, Android devices or PC.
These new channel apps are a great way for your kids to enjoy high quality and family-friendly content – anytime and anywhere. And the mobile app is free when you are subscribed to the channel.
Here's some helpful information about each of these channels:
Disney Channel (Target Audience: K6-14 and Families)
Welcome to the Disney Channel Canada App where you'll find all your favourite shows, much-loved stars and original movies like Liv and Maddie, KC Undercover, Jessie and Austin & Ally and so much more! And with live TV streaming as well – this is the latest and greatest that Disney has to offer!
Treehouse (Target Audience: K2-5 and Families)
Treehouse is a place where imagination rules, playtime never ends and little ones can find whimsical programming that encourages them to try something new and exciting every day. From Bubble Guppies to Max & Ruby and Trucktown, TreehouseGo is home to a safe and wonderful kids content.
YTV (Target Audience: K6-11 and Families)
Awesome shows that make you laugh harder than cat videos – like SpongeBob, Max & Shred, and Some Assembly Required – plus terrific movies. YTVGo offers the best of YTV and the ultimate kids TV headquarters.
Nickelodeon (Target Audience: K6-11 and Families)
Never enough Nick! Tons of hit shows like SquarePants, Rugrats and iCarly and live TV streaming,Nick Canada is home to your all-time Nickelodeon favourites! With NickGo, you can watch all your shows on your tablet and mobile device when you want!
Check out all the VMedia Kids packages and individual Kids channels here. And all our Anywhere Channel GO Apps here.
VMedia TV just got even better!