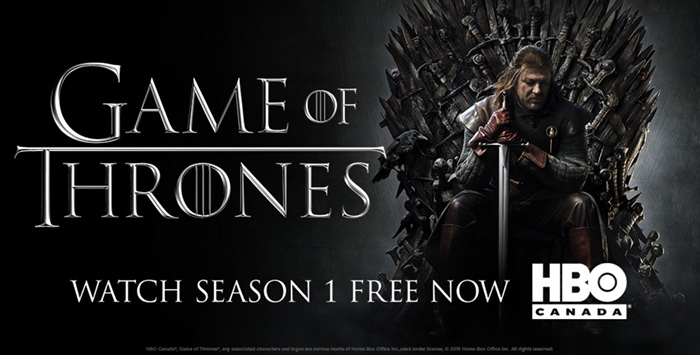 Discover Game of Thrones – On Us!
VOD Freeview – Season 1, April 18th – May 15th
April 18, 2016 – Now is the time to find out why everyone is talking about Game of Thrones. For a limited time, and for VMedia TV customers who aren't currently subscribers to TMN/HBO Canada, you can watch the complete Season 1 of Game of Thrones on VMedia SVOD for FREE. Starting April 18 to May 15, all ten episodes of Season 1 will be loaded on our SVOD platform for you to watch any time you like. Binge it, or savour each episode at your own pace, and find out why viewers and critics are obsessed with Game of Thrones.
And then catch up on ALL five seasons, and start to watch Season 6 which premieres April 24, by adding TMN/HBO Canada to your TV line-up, either by going to your My Account or calling one of our friendly VMedia Team Members.
Get ready to mark spring and take in all 10 episodes of Season 1 in this limited time offer from April 18 – May 15. Just go to our SVOD portal on your main menu, and enjoy!