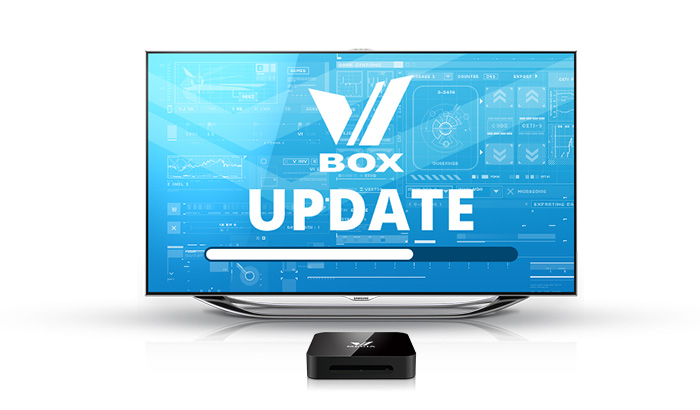 VMedia is happy to introduce our latest set of upgrades to the VBox, designed to further enhance your VMedia TV experience. These upgrades give you more options and better ways to view, search and access your favourite TV content and apps.
The upgrades include:
The introduction of an "Options" panel which will house an expanding range of neat functions, and which we are initially launching with channel filters and parental controls
The ability to better organize your access to your apps, by listing them on the relevant main menu horizontal bars
An improved search function, with the addition of Search History

The upgrades are being pushed out to your VBoxes over the next several days. Just follow the prompts and enjoy!
New Options Panel
The "Options" panel, which appears on the right side of your screen when you click the "Options" button, enables you to control a variety of functions. You can a) filter your channels by your favourite genres; b) engage parental controls when you want to limit your children's access to age-inappropriate content; and c) turn closed captioning control on and off. Changes will be applied upon closing of the panel by pressing "Options" button again or "Back" button.
The Options panel is contextual, meaning it displays different options depending on what is on your screen. For example, if you are watching live TV, the Options panel allows you to turn the closed captioning on and off. If you want to display the filters, or parental controls, you have to engage the channel guide, either on its own or in transparent mode.
TV Guide and Channel Filters
You can now choose which channels are to be displayed on your TV guide. You can display all the channels, or filter out channels you are not currently subscribed to, or show only VCloud TV channels. You can also filter channels by Genre such as Kids & Family, News & Knowledge, Drama & Movies, etc, or display all Genres.
The controls are intuitive — just press the Options button, when your TV Guide is on the screen, and make your selection under "Show in TV Guide".
Parental Controls
Our new parental control feature allows you to select which shows you would allow your children to view. We use MPAA ratings, that is, G (General), PG (Parental Guidance), PG-13, R (Restricted) and NC-17 (No Children 17 or Under).
You can choose both the maximum rating and the length of time for the limitation to remain in place. If you choose G, only G-rated shows will be shown, if you choose PG-13, only G and PG-13 rated shows will be shown. The time selection allows you to suspend the control for one, two or four hours.
Once you have made your selections, you can engage them by entering your pin number on the pop up screen. Your pin number is the initial ID password that was emailed to you when you first signed up. You can change your parental control pin number very easily to a shorter more suitable one by going here.
Organizing Your Favourite Apps
We added a function which allows you to place a shortcut to selected apps on the horizontal bars of the Main Menu – and in the relevant category. For example, if you use Netflix or TuneIn a lot, you can place shortcuts to them on the "Video" or "Music" bar of the Main Menu.
You can access the organizing feature by going to the App section, highlighting the Netflix app, and pressing the Blue button, which engages App Options. A screen will pop up giving you a choice of categories on the Main Menu. Choose the relevant one, i.e., "Video", click Done, and you are good to go. Your favourite apps, more accessible than ever.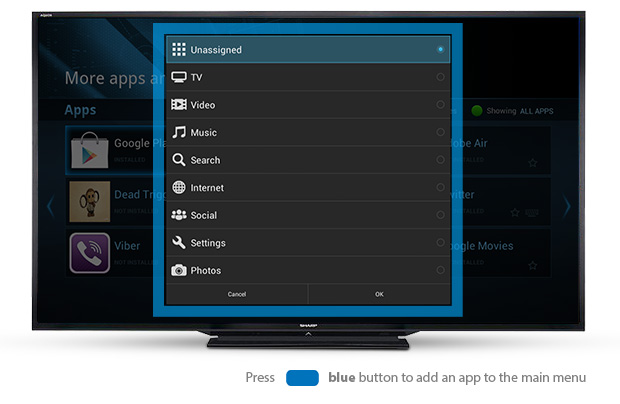 Upgraded Search Function – Search History Added
The Search function has been upgraded to show your Search history.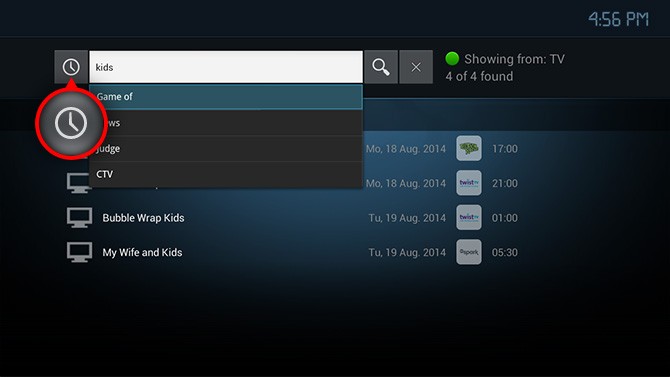 Thanks for reading this and as always, your feedback is welcome!