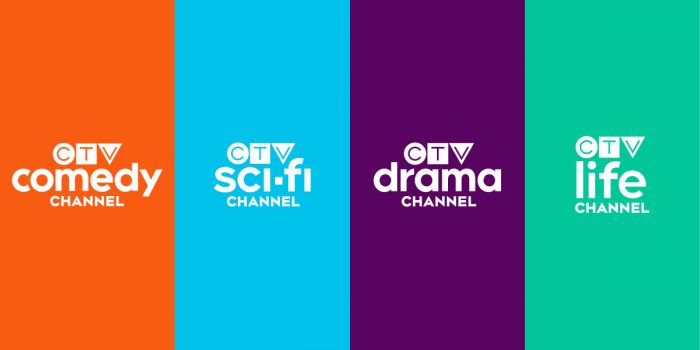 Some top specialty channels; Bravo, Comedy, Space and Gusto, are being rebranded today to new channel brand names:
Bravo becomes CTV Drama
Comedy changes to CTV Comedy
Space rebranded to CTV Sci-Fi
Gusto becomes CTV Life
Bell Media, the owner of these channels, is leveraging the strong awareness level out there of "CTV" in this rebranding.
Here are some programming highlights for each of these popular channels:
CTV Drama Channel
CTV Drama Channel pushes boundaries and sparks conversation. Get into addictive stories, from cutting-edge series to crowd-pleasing whodunits and riveting unscripted moments.
Top shows to watch:
The Truth About the Harry Quebert Affair
Gold Digger
Carter – Season 2
LA's Finest
Queen of the South – Season 4
CTV Comedy Channel
CTV Comedy Channel is he Canadian authority on comedy. Get into the biggest sitcoms and late-night talk, A-list stand-up, hit movies and every other flavour of funny.
Enjoy all the antics on these shows and more:
Late Night series: The Daily Show, Full Frontal with Sam Bee and the upcoming brand new late night series with David Spade from Comedy Central
Mad About You
Tacoma
Jim Jeffries – Season 3
CTV Sci-Fi Channel
CTV Comedy Sci-Fi is the super-fan of genre entertainment. Get into worlds with no limits, where fans connect to the heroes and galaxies we dare to imagine.t
You will want to watch these shows and more:
Arrow – Season 8 (Final season)
Supernatural – Season 15 (Final season)
Legends of Tomorrow – Season 5
Star Trek: Discovery – Season 3
Castle Rock – Season 2
NEW! Picard
CTV Life Channel
CTV Life Channel is a lifestyle influencer, with shows that inspire, with home and lifestyle series, amazing meals to savour and incredible places to explore.
Be sure to check out:
Martha and Snoop's Potluck Dinner Party
Jamie's Ultimate Veggie (New Jamie Oliver series)
Jamie and Jimmy Food Club
Where To I Do – Season 3
—————————————————————————————————————————–
Sign up today and take advantage of our Free TV offer! Get our most popular TV package, Premium Flex, with over 60 of your favourite channels for 2 months FREE and then only $49.95. Choose from one of four variations; Classic, Sports, Family or Lifestyle, and catch all your favourite programming.
VMedia – More content. More enjoyment.