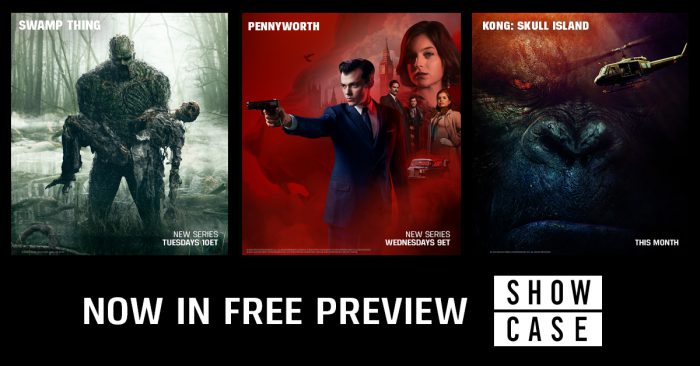 VMedia is gearing up for an incredible fall TV season, offering one of Canada's most popular channels – Showcase – now on Free Preview from now until September 30th !
Watch new buzz-worthy dramas and exciting blockbuster movie premieres, all month long on Showcase and Showcase on Demand, now in Free Preview. Here are some hot new shows to check out.
Swamp Thing – New Series Premiere: September 2 and September 3, 10 pm
Based on the DC comic, Swamp Thing follows Abby Arcane as she investigates what seems to be a deadly swamp-born virus in a small town in Louisiana, but soon discovers that the swamp holds mystical and terrifying secrets.
Pennyworth – New Series Premiere: September 4, 9 pm
This DC origin story follows Bruce Wayne's legendary butler, Alfred Pennyworth, a former British SAS soldier who forms a security company and goes to work with young billionaire Thomas Wayne, who's not yet Bruce's father, In 1960s London.
Blockbuster Movie Premieres
Don't miss exciting movie premieres including Kong: Skull Island, Valerian and the City of a Thousand Planets, The Huntsman: Winter's War, and many more of your favourite Hollywood blockbusters.
Enjoy all the great content on Showcase, available in our Premium Flex and Grand Premium TV packages. Sign up now and you can get 2 months Free on Premium Flex which comes in four themes; Classic, Sport, Family or Lifestyle , and 1 month Free when you take Grand Premium.
You can also subscribe to Showcase as a UChoose channel for only $2.95 a month and you get 2 months Free.
VMedia – More Content. More Enjoyment.