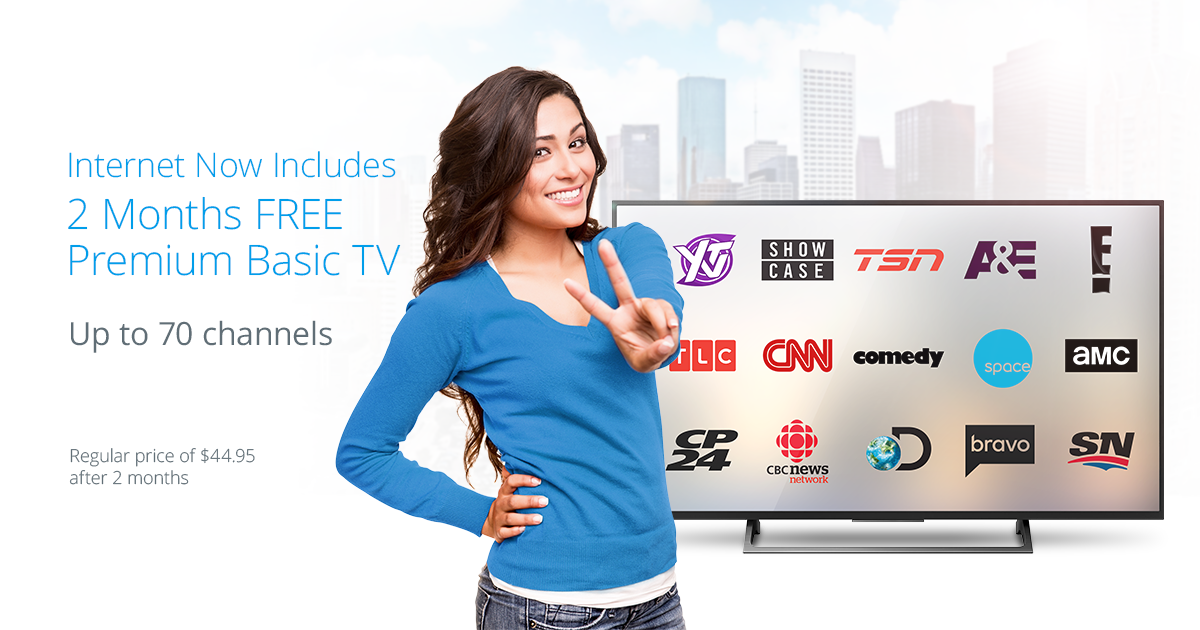 Check out VMedia's latest and greatest new TV offer – 2 months Free TV of our most popular TV package – Premium Basic!
Enjoy Premium Basic TV and watch up to 70 popular channels, and pay no subscription fees for the first 2 months. That's right, the first 2 months are on us.
Premium Basic is the best value TV package on the market today – enjoy the best set of popular TV channels for the lowest monthly price. Sign up to any of our unbeatable high-speed internet plans, featuring the lowest prices for unlimited, high-speed internet service – Cable, DSL or FTTN internet – and no extra usage charges, no contracts, and no cancellation fees, and take advantage of this tremendous offer.
Our Premium Basic TV package includes all major Canadian and US TV networks – CTV, CBC, CITY, Global, NBC, ABC, CBS, FOX and PBS, plus a terrific lineup of all your favourite specialty channels, such as, AMC, A&E, Bravo, CNN, CP24, Discovery, E!, MLB, MTV, NFL, Peachtree, Sportsnet, SportsnetOne, Sportsnet East, Sportsnet West, Sportsnet Pacific, Sportsnet, TSN1-5, The Comedy Network, TLC and more. After, pay only the current regular price of $44.95/month for all these fantastic channels.
Plus, VMedia's TV service comes with a unique set of features and capabilities; an advanced interface for fast access to TV, Netflix, Apps, and all your favourite streaming content, as well as VOD, PVR and our popular VCloud platform ('Scroll-Back TV") allowing you to watch any show aired in the last week on a large number of channels. A couple of clicks and its up on your screen – a world of content, just a few clicks away.
TV today offers the best entertainment value per dollar available, with hundreds of hours of great original drama, comedy, news, kids programming, and of course SPORTS – watch one of the greatest sporting events of all time – Super Bowl, for free!
Switch to VMedia TV & Internet today. Great value. More content.
(Two months free TV promotion is available to new TV customers only. Limit 1 per customer)