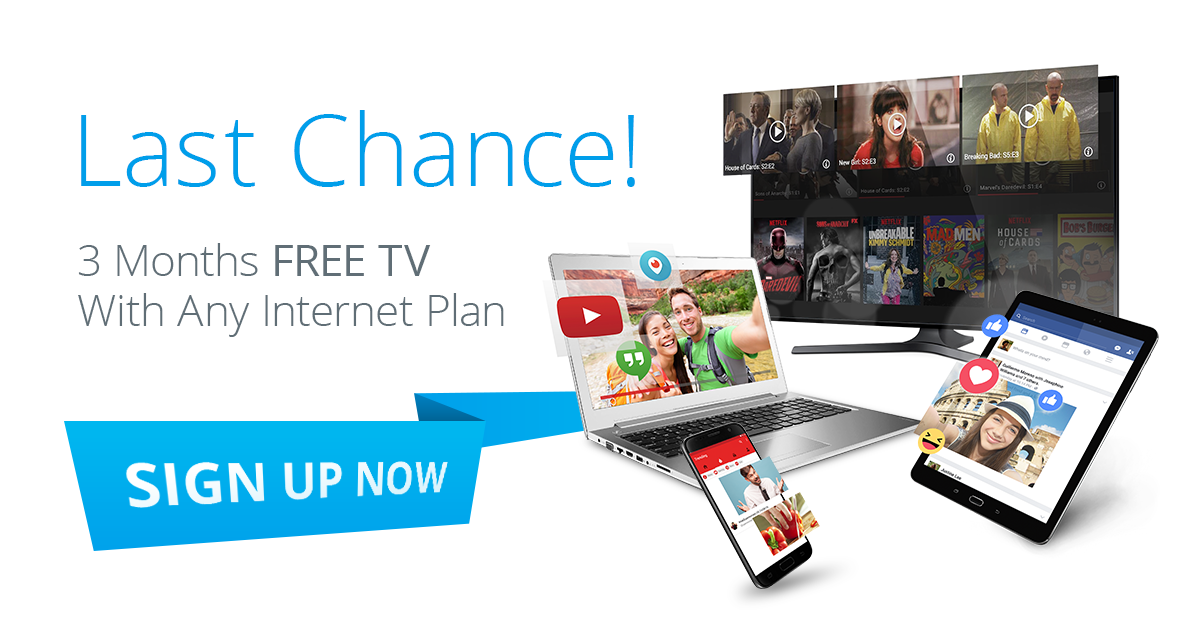 All great things come to an end … and the same applies to our terrific 3 Months FREE TV offer.
Don't delay, sign up today and take advantage of our great FREE TV offer! Enjoy 3 Months FREE. All the News, Sports, latest shows and more — plus Super Bowl 2018 just around the corner.
Sign up to one of our unbeatable, unlimited high-speed internet plans, and enjoy 3 months free VMedia TV service, or a super discount on our other TV packages, and enjoy even more channels and content.
Try our Skinny TV package, with all the Canadian and US networks channels, such as CTV, CBC, ICI, TVA, Global, NBC, ABC, CBS, FOX and PBS, all in beautiful HD. Enjoy hundreds of hours of your favourite programming each week – live, or with our cool VCloud ('Look back" TV) feature. Skinny is free for three whole months, and then only $17.95 / month afterwards. That is over $50 in TV savings.
Want more specialty channels and your favourite sports channels? Use the free offer savings with our Basic TV package – regularly $29.95 / month, but now only $12.00/ month for three months. Enjoy over a dozen additional specialty channels, including TSN, YTV, E!, CTV News Channel, MuchMusic, and CP24 (where available).
Or, treat yourself to a bigger and better TV experience and get our most popular TV package, Premium Basic – the best set of channels at the lowest price on the market. Premium Basic TV comes with up to 70 great channels, everything in the Basic package, plus all the regional Sportsnets, SportsnetOne, CNN, AMC, A&E, Showcase, Bravo, Discovery and many more. Sign up today and pay only $27.00/month for the first three months. Premium Basic's regular price is only $44.95 /month.
For those in Quebec worried about how you are going to watch Walking Dead on AMC – AMC is included free for 3 months in our Basic TV package, or part of the lineup of our Premium Basic TV Package! VMedia's TV packages are all customizable so you can 'build your own' TV lineup with our selection of theme packs or individual channel options in our UChoose store.
To enjoy VMedia TV and our innovative TV/streaming content platform, you will need a VBox, our TV set top box and media player combined, or a Roku Player or Roku-powered smart TV. (Purchase or rent the VBox for $9.95/month with a refundable deposit of $49.95)
These great TV offers are available when you sign up to any one of VMedia's low cost and unlimited internet plans; Cable or DSL/FTTN. And no extra data charges, no contracts and no cancellation fees. VMedia's internet plans start at $19.95 and we offer those super high speeds up to 250Mbps. We have plans for every budget and bandwidth need.
VMedia TV & Internet – Save Every Month.