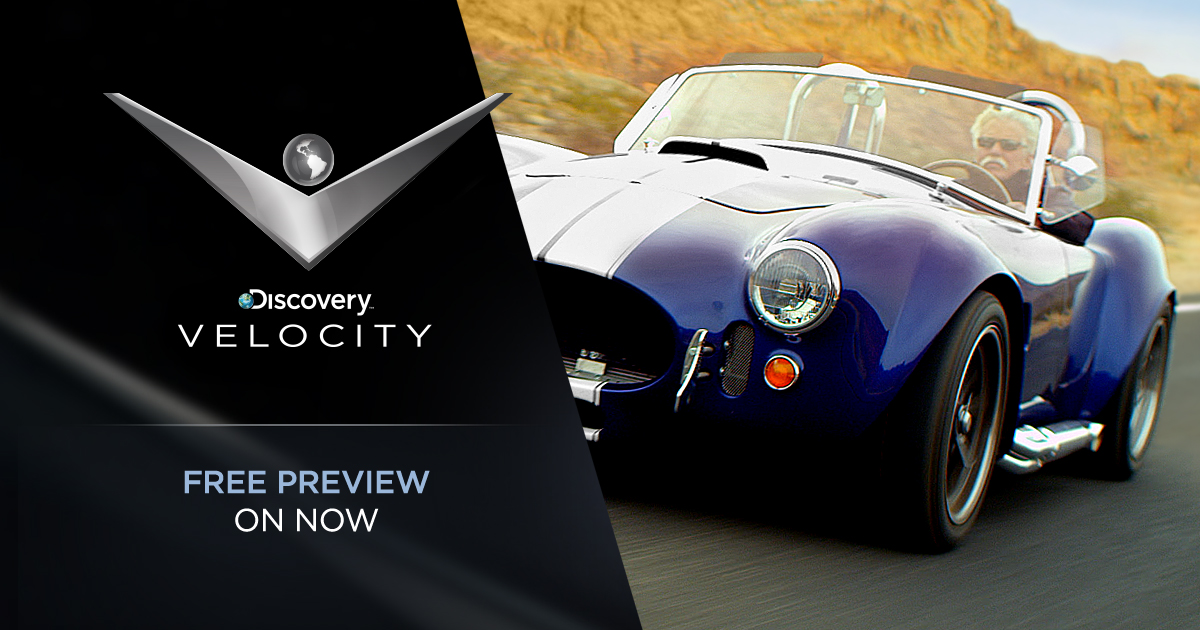 Discovery Velocity is devoted to all things automotive along with travel, survival and other "factual turbo' content. All in beautiful HD too.
Enjoy these new series and new seasons of popular returning series:
New Series
RMD Garage – Ralph Holguin lives by one motto: "Don't dream it, build it." That philosophy has fueled Holguin, a Mexican immigrant and high school dropout, to take a car wash business he started at 19, and create one of the hottest automotive restoration shops in Southern California. His RMD Garage fully restores and customizes classic cars into show-stopping, remarkable vehicles that fans across the country crave.
The Auto Firm with Alex Vega – For visionary designer Alex Vega, custom cars are like an art form. As the owner of Miami's wildly popular custom car shop, The Auto Firm, Vega, alongside his wife and family, have created luxury automotive masterpieces for leading athletes, celebrities and international recording artists including Marc Anthony, N.B.A. champion Michael Jordan, undefeated championship boxer Floyd Mayweather, N.Y. Mets pitcher Bartolo Colon, former N.F.L. wide receiver Dwayne Bowe, singer Akon and many, many more. Vega also recently built the hot rides for N.Y. Mets outfielder Yoenis Cespedes who famously drove them to spring training this past year.
Returning Series
Wheeler Dealers – For 13 seasons Wheeler Dealers has found, fixed, flipped, tested and traded roughly 135 cars on the international market. The hit series returns with hosts Mike Brewer and new master mechanic Ant Anstead as they hunt down deals in America – the most exciting, most competitive car market on the planet. From the sunny beaches of southern California to the coldest edges of Maine, Wheeler Dealers searches coast-to-coast for the best vehicles to buy, restore, test and sell for a tidy profit in all new episodes.
All Girls Garage – Automotive expert hosts Cristy Lee, Rachel De Barros and Bogi Lateiner work behind the gears on complex automotive projects that rival those undertaken by their male counterparts. In each episode they repair, modify and restore all types of vehicles, and reveal some tips and tricks for the weekend mechanic in all of us.
Special
Barrett-Jackson LIVE Auction, Scottsdale – Velocity shifts into a new gear this year as exceptional cars shine brighter than the desert stars during BARRETT-JACKSON LIVE from Scottsdale, Ariz. One of the biggest annual automotive events in America, the Barrett-Jackson Scottsdale auction, features thousands of bidders – discerning collectors, big dreamers, leading athletes and top celebrities – vying to ensure their fantasy becomes reality. Tensions will surely run high and the excitement even higher as bidders compete to take home one of the more than 1,600 outstanding vehicles scheduled to cross the auction block.
Like what you see? Enjoy Discovery Velocity for only $2.95/month as an individual selection in our UChoose Store, or add as part of UChoose 5, UChoose 10 or Any Twenty, from as low as $1.50/month. Discovery Velocity is also available in VMedia's popular Sportsman theme pack, with 10+ other great specialty channels, for as low as $.5.95 per month. Try it, and then sign up!
VMedia TV – More Free Previews. More Enjoyment.