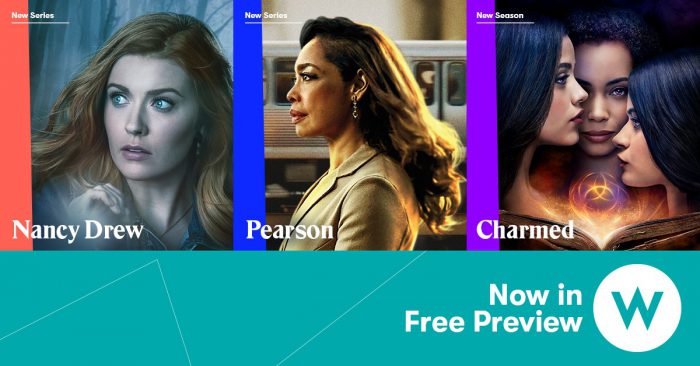 VMedia is excited to bring you the W Network on free preview — all VMedia TV subscribers will have free access to Canada's top destination for women's drama content starting now through November 17th, 2019.
W Network is home to the latest scripted drama series, romantic, feel-good movies and must-watch movie events. W Network delivers compelling and engaging programming such as All American, Outlander, The Good Witch, Autumn Dreams and more!
During this time, W Network brings you these exciting premieres for new and returning series:
Charmed – Season premiere October 11, 8 PM
This fierce, funny, feminist reboot of the original Charmed series centers on three sisters in a college town who discover they are witches. Between vanquishing supernatural demons, tearing down the patriarchy, and maintaining familial bonds, a witch's work is never done.
Nancy Drew – Season premiere October 9, 9 PM
Nancy Drew brings an element of darkness to the whodunit series with a supernatural twist. The brilliant detective's sense of self comes from solving mysteries in her hometown of Horseshoe Bay, Maine – until her mother's untimely death derails Nancy's college plans. Devastated by her mother's passing, Nancy swears off crime-solving while crossing off the days until she can re-apply to college, but when a socialite is murdered Nancy finds herself a prime suspect in the crime, along with a group of other teens present at the scene.
Like what you see? W Network is available in our popular Premium Lifestyle and Grand Premium TV packages for only $49.95/month or $67.95/month. Sign up now and you can get 2 months Free on Premium Flex – Lifestyle, and 1 month Free if you take Grand Premium.
You can also add the W Network to your TV lineup with our Style and Style/Living Combo theme packs, or get it for as low as $3.95/month from our UChoose store. Sign up today!
VMedia – More Content. More Enjoyment.