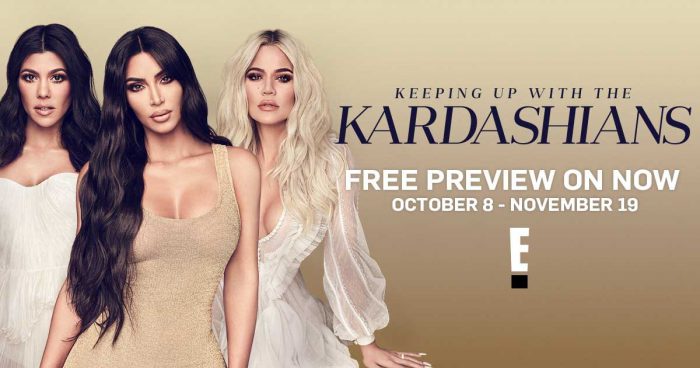 Hey celebrity-watchers – E! is now on free preview from October 8th through to November 19th !
Here's your chance for VMedia TV subscribers to watch this popular channel and enjoy all their guilty pleasures free for over a month. E! is on channel #71 in your TV lineup in most provinces across Canada.
E! is Canada's #1 destination for all things pop culture, delivering exclusive breaking news and in-depth coverage on celebrities, awards shows, movie premieres, TV scoops and spoilers, fashion trends and everything viral.
Check out the E! programming line-up during this period that will include highly anticipated new and returning series:
New Episodes
Keeping Up With The Kardashians – Sundays 9pm
In a series first, Kim and Khloe break the fourth wall amid concerns that certain family members are not pulling their weight when it comes to sharing their lives for the cameras, threatening to take drastic action. In the face of adversity, the Kardashians set out to prove that headlines only tell part of the story and that this family can overcome any obstacles thrown their way.
Live From The Red Carpet: The E! People's Choice Awards 2019 – Sunday, November 10th 7pm
E! brings you all the celebrities and excitement from the biggest events of the year. Live From The Red Carpet promises to keep fans in the loop and on the edge of their seats with fun, authentic interviews featuring Hollywood's best in TV, as well as spontaneously captured carpet moments none of us could have planned for.
The E! People's Choice Awards 2019 – Sunday, November 10th 9pm
The iconic award show is coming back and it's going to be bigger and better…with just the right amount of pop culture pizzazz. People's Choice Awards is the only major award show voted on entirely by the public for fan favorites in movies, music, television, and pop culture. Celebrate all forms of entertainment!
Like what you see on E! on free preview? It's easy to add this channel in your My Account. E! is available 'as la carte' in our UChoose store for $4.95/month. You can also get E! with our popular Premium Flex (2 Months Free), Grand Premium (1 Month Free) and Basic TV packages for only $49.95/month,
$67.95/month, or $35.95/month, respectively.
VMedia – More Content. More Enjoyment.