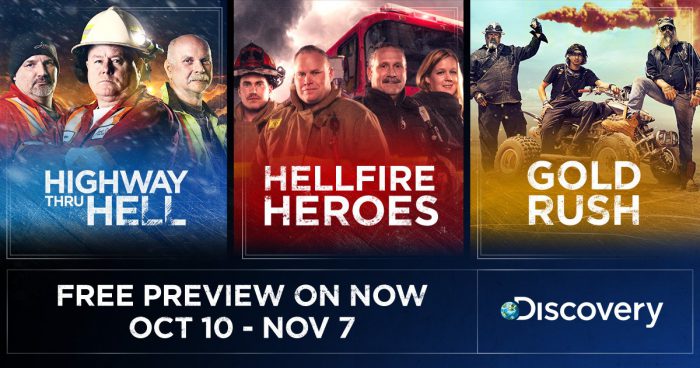 VMedia is very pleased to bring you a free preview of Discovery HD! Here is your chance to take in Discovery's compelling programming of adrenaline-charged stories, big personalities and vivid imagery for those who are curious about our world. Discovery is available free for VMedia TV subscribers now through to November 7th, and can be found on Channel 42 in most provinces. Here's some top programs to check out
HIGHWAY THRU HELL – Mondays 10pm
Discovery's smash-hit original Canadian series returns for another epic season, with 17 all-new episodes following the hardworking and heroic heavy recovery operators who fight to keep the roads open through British Columbia's Coquihalla and Cascade mountains. Reliable Towing's resilience is tested like never before when one of their own is caught up in a terrifying event on the highway.
HELLFIRE HEROES – Tuesdays 10pm
In the coastal towns, wildlands, and prairies of the Canadian West, there lives a special breed of firefighter. The stress is high and there's no room for error as each fire department responds to a relentless battery of emergency calls. With remote and unmarked roads, fast flowing rivers, roaming wildlife, and a steady stream of transport trucks and freight trains barreling through their towns, these firefighting teams face life-altering challenges on a daily basis.
GOLD RUSH – Tuesday 8pm
This season, GOLD RUSH marks a decade of digging with all-new claims, crews, and challenges as miners Parker Schnabel, Tony Beets, and Rick Ness battle the odds and the elements in pursuit of the American dream. With the price of gold spiking, a new rush of prospectors flood the area, and each miner is forced to take massive gambles as they hunt for gold on new grounds.
Discovery HD is available in our popular Premium Flex and Grand Premium TV packages for only $49.95/month (2 Months Free) and $67.95 (1 Month Free), respectively. You can also add Discovery to your TV lineup with our Knowledge theme pack or get it for as low as $1.50/month in our UChoose store. Sign up today!
VMedia – More Content. More Enjoyment.