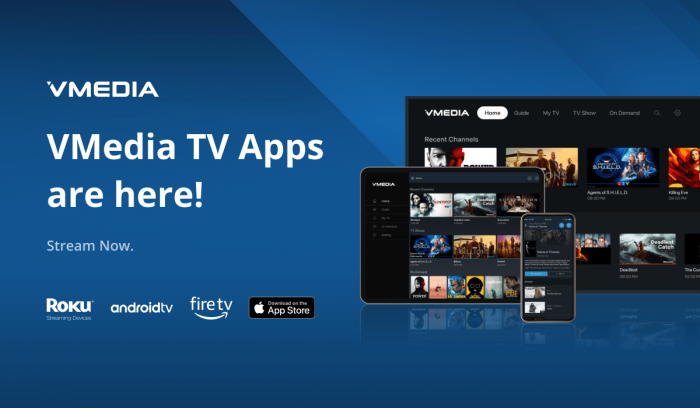 Contact: Beth Merrick /ZAZOU Communications
(416) 654-9881, [email protected]
VMEDIA TV NOW AVAILABLE ON ALL MAJOR STREAMING TV DEVICES
No Set Top Box Required to Enjoy VMedia TV and Hundreds of Great TV Channels!
TORONTO, ON – August 5, 2020 – VMedia, Canada's most innovative and affordable independent telecommunications and broadcasting company, announces the launch of four new major TV apps that will now allow millions of Canadian homes to watch TV without having to buy or rent costly set top boxes (STB).
For the first time, subscribers to the VMedia TV service will now be able to watch their favourite shows at home on popular platforms of their choice including Roku players, Roku TV™ models, Amazon Fire TV, Fire TV Edition smart TV, Apple TV, iOS (mobile and tablet) and Android TV devices (including NVIDIA SHIELD and certain TVs manufactured by Sony, Sharp, Philips and more).
VMedia TV has established its reputation as the affordable alternative to the expensive big-bundle packages promoted by the large TV providers, and that value proposition has just gotten better. By enabling access to VMedia TV without the need to buy or rent an STB, Canadian households can save even more – and benefit from the great features that come with most VMedia TV apps.
These include My TV – for quick access to favourite shows and on-demand content; Look Back TV – to watch previously aired content up to seven days back; Pause & Resume – which allows users to pick up where they left off, and Restart which allows users to go back to the beginning of a show already in progress.
"The cost of STBs, whether to buy or rent, really adds up," said Alexei Tchernobrivets, CEO of VMedia. "Most homes have several boxes, so before you know it the costs can be greater than the TV packages themselves. Today, millions of Canadian homes already have devices which support the streaming TV apps VMedia now offers, and the numbers are growing everyday. Those STB costs are eliminated for them, and they get neat new TV features too."
With one of VMedia's great, unlimited internet plans, anyone can sign up for VMedia TV, starting at $24.95/month*. Simply go to the app store, whether Apple, Google, Roku or Amazon, download the VMedia TV app, and start watching – and saving!
Learn more at www.vmedia.ca/tv and on:
Twitter: @VMedia TV
Instagram: Instagram/vmediainc
Facebook: facebook.com/VMedia TV
*price excludes applicable taxes
# # #
ABOUT VMEDIA
VMedia is Canada's leading independent telecom and broadcasting company available coast to coast, offering unlimited Internet, TV, Home Phone and Home Security services. VMedia's mission is to provide the most affordable prices, the best choice and flexibility, dedicated consumer advocacy and ongoing service innovation. Recognized as an innovation leader in the industry, VMedia was the first to launch numerous consumer-friendly service and packaging features, and is a pioneer in the development of live TV streaming solutions and IPTV broadcast technology, offering easy and affordable choice and access to favourite TV entertainment. Visit www.vmedia.ca.
Roku is a registered trademark and Roku TV is a trademark of Roku, Inc. in the U.S. and in other countries.