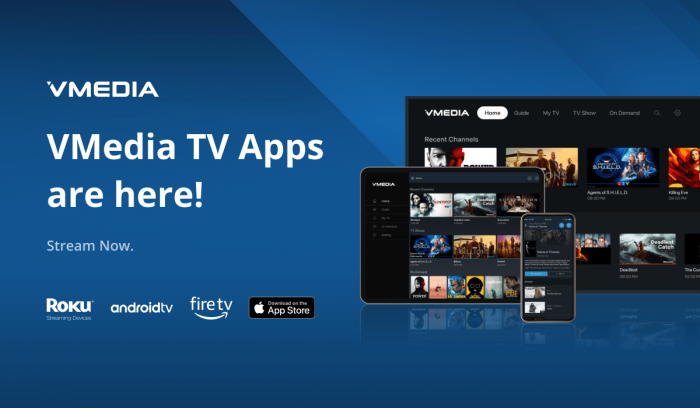 VMedia TV subscribers will be able to watch their favourite shows on popular streaming devices
We are excited to announce that VMedia TV is now available and accessible on all the major streaming platforms in Canada. Subscribers to VMedia TV will be able to watch their favourite shows at home on popular streaming devices of their choice. Now you can enjoy VMedia TV on Roku players, Roku TV™ models, Amazon Fire TV, Fire TV Edition smart TV, Apple TV, iOS (mobile and tablet) and certified Android TV devices (including NVIDIA SHIELD and certain TVs manufactured by Sony, Sharp, Philips and more)!
Canadian households can save even more without the need to buy or rent expensive STB (set top boxes) and can enjoy all the great features that come with VMedia TV apps. These include My TV – for quick access to favourite shows and on-demand content; Look Back TV – to watch previously aired content up to seven days back; and Restart to go back to the beginning of a show already in progress.
VMedia TV also offers 'build your own' TV packages with lower cost starter TV plans and 'a la carte' channels.
With one of VMedia's great, unlimited internet plans, anyone can sign up for a VMediaTV package, starting at $24.95/month. Go to the app store, whether Apple, Google Play, Roku or Amazon Prime, download the VMedia TV app and start watching – and saving!
VMedia TV – More Streaming. More Savings.