Check out this recent article in the Winnipeg Free Press about VMedia and our low prices for unlimited home Internet and TV against the competition in Manitoba. VMedia is dedicated to offering the lowest prices, best value and great customer support for unlimited internet, TV and other residential services in Manitoba and across the country. Read more
It's been hard to miss the fact there's a new telco service provider in town.
VMedia has lately been covering the advertising waterfront in Winnipeg, touting its ability to "Burst the high price bubble."
The Toronto-based company has been around for almost 10 years, but the co-founders have never had the funds to promote its low-cost service until a few weeks ago when the company was acquired by Quebecor subsidiary, Videotron.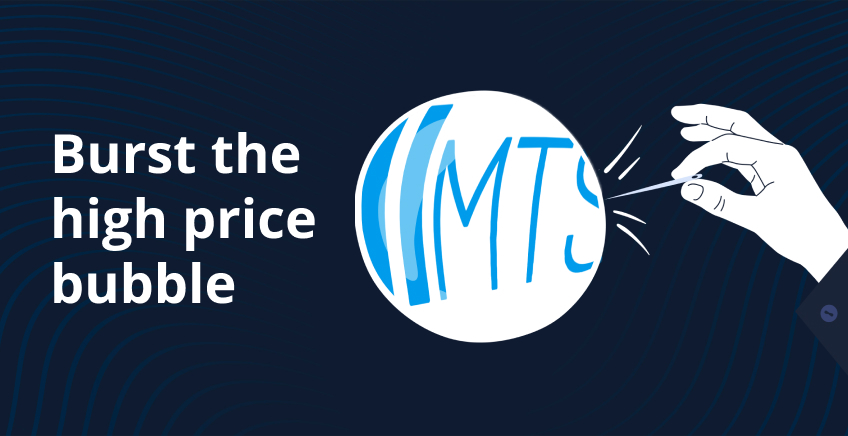 Up until now it has peaked at around 50,000 subscribers for its high-speed Internet, television, home phone and security offerings, mostly in the Greater Toronto area where the company operates with a small staff. (VMedia will not have any employees in Manitoba.)
But with television packages between 15 and 25 per cent less than the cable companies and high speed Internet offering at 75 mbps (megabits per second) for $39.95, VMedia is significantly less than the commercial offerings of the major telcos. (For instance, BellMTS's website is currently offering 940 mbps at $110.00 per month.)
The company has faster speed offerings at higher prices, but company co-founder, George Burger said, "90 per cent of Canadians don't need 1 gig fibre service."
He maintains its 75 mbps service allows you to have three high definition streaming services operating in the house at the same time and still have capacity for other uses.
Burger said the company never had the funds to be able to adequately market its cheaper service. (The company pays wholesale prices to the network owners like Bell, Telus and Rogers and then re-packages it into its commercial offering at a lower price because of lower overhead.)
"We just did not have enough capital to adequately promote ourselves right across the country even though we served the whole country," he said. "We have great pricing, great value but we've not been able to let enough people know about it."
"Now with support of Quebecor and Videotron we can let people know we are out there," he said
That deal was done quietly with no terms disclosed unlike last month's announcement that Quebecor has entered into an agreement with Rogers and Shaw to acquire Freedom Mobile subject to regulatory approval and subject to the closing of the merger between Shaw and Rogers, which is far from settled.
But meanwhile, VMedia's new owners have chosen Manitoba as the proving ground to test the competition because it was viewed as a jurisdiction with the least competition. A Quebecor spokesperson said marketing campaigns in Ottawa, Alberta and B.C. are to follow.
The spokesperson said, "The acquisition of VMedia is a clear signal that Quebecor is serious about creating healthy, sustainable competition in Canada and very much complementary to our intent to acquire Freedom Mobile, eventually enabling us to bundle Internet, TV and wireless services to bring down prices for Canadians."
Ryan Klassen, vice-president enterprise sales & vice-chair BellMTS for Western Canada, said, "We respect all of our competitors and we're always ready to compete in the markets we serve."
Burger said he has not yet detected any pricing alterations from Bell or Telus or Rogers to counter VMedia's low-priced entry onto the scene.
Geoff White, executive director of the Competitive Network Operators of Canada, (which VMedia has been a member of), said there is always room for more competition
"There is a huge problem in Canada in terms of its lack of competition which is well documented," he said. "There is a huge problem with access and affordability."
He said VMedia's acquisition by Quebecor will improve its ability to enter more markets because of the deep pockets of its new parent company.
"VMedia has not been afraid to confront the legacy telcos," White said. "We talk a lot about how the smaller competitor and mavericks are necessary to discipline the big three."
While it has been a very small player since its launch in 2013, Burger claims his company was the first to offer streaming television in Canada providing a Canadian package of channels.
If you subscribe to VMedia's high speed Internet service and already use an Apple TV or Roku or Amazon Fire device you can just download the VMedia TV app and start streaming its television service without the need of a set-top box (and avoid the rental expense of a set-top box).
"Now everyone allows you to switch from your regular television channels to Netflix or other streaming services and back, seamlessly, but we were the pioneers," he said.
And as for the expectations regarding market penetration after the robust advertising campaign it is currently undertaking in Manitoba, Burger said he expects the product will speak for itself.
"If people are familiar with our value proposition then we are going to do very well indeed," he said. "This is what we offer — a great deal, great service and very, very favourable pricing."
Martin Cash
Reporter
Martin Cash has been writing a column and business news at the Free Press since 1989. Over those years he's written through a number of business cycles and the rise and fall (and rise) in fortunes of many local businesses.