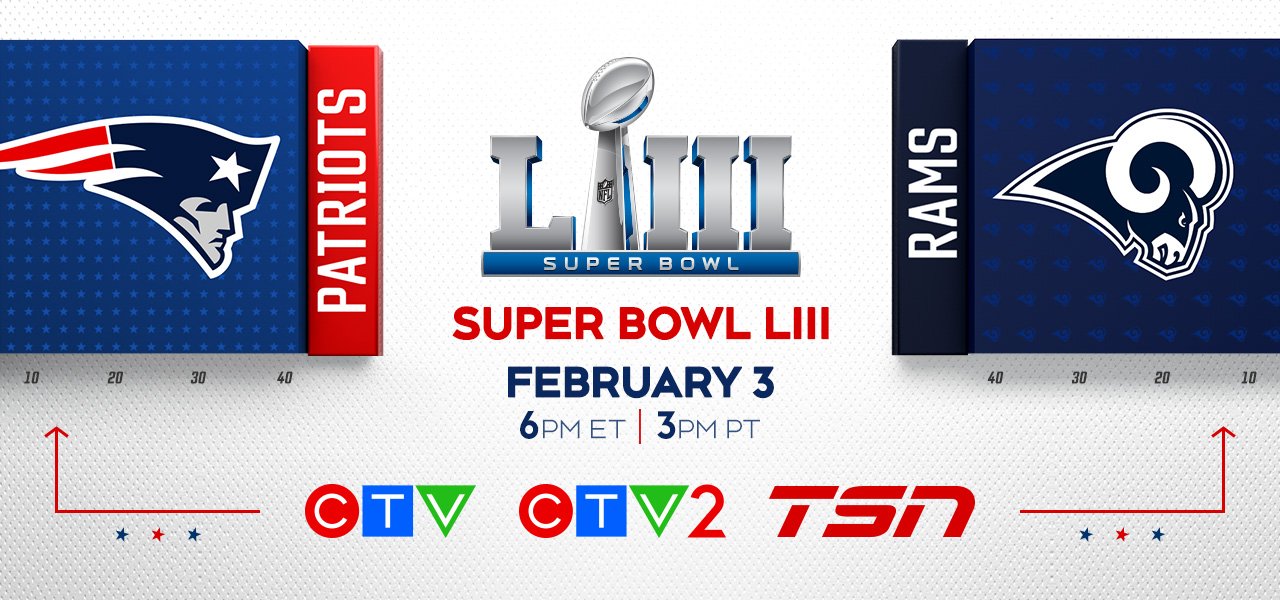 Hey Sports Fans, 2019 Super Bowl fever is building. This Sunday, February 3rd, live from Atlanta, two-time defending American Football Conference champion, the New England Patriots and the National Football Conference champion, the Los Angeles Rams, face off to determine the champion for the 2018 football season.
Catch all the excitement, great plays and of course, cool ads in this years' game. Whatever team you are gunning for, here are 10 players to watch:
New England Patriots
The Patriots breezing through the AFC is somewhat of a January routine at this point, and their excellence in the NFL is undisputed.
Patriots Quarterback Tom Brady
No surprises here, Tom Brady is widely known to be the best quarterback of all time. Brady has led New England in their most crucial drive in the season, in overtime of the AFC Championship Game. If the Patriots win, it will be Brady's sixth title, making him the player with the most wins in NFL history.
Rob Gronkowski
An outstanding tight end, though past his prime and despite the rumours that Gronkowski may retire after the Super Bowl, Gronkowski still looms as a mismatch for LA's linebackers and remains a factor as a run blocker.
Sony Michel
Michel, a rookie player, has been at the forefront of New England's offense over the last four games and setting records for rushing TDs by a rookie in one post season.
James White
White was the hero of the Super Bowl two years ago as he set a record for receptions while scoring three touchdowns, including the game-winner. He could reprise his role once again this Sunday to exploit the Rams' linebackers.
Stephon Gilmore
As the Patriot's best defensive player, he will likely be counted upon to stop the Rams' best wide receiver – either Brandin Cooks or Robert Woods.
Los Angeles Rams
The Los Angeles Rams went on a spending spree last summer and it has paid off. With the addition of Brandin Cooks, Ndamukong Suh, and Marcus Peters, the Rams cruised to the NFC West title and are now facing off in the Super Bowl. Here are 5 key players:
Todd Gurley
Gurley, who spearheads the Rams' 11 personnel, will work to his fullest capacity against Patriots' defense.
Rams Quarterback Jared Goff
Goff enters his first Super Bowl this year with just a 79.5 QB rating in LA's playoff wins. We can expect the Patriots to focus primarily on limiting Todd Gurley, which leaves the Rams' hopes on their quarterback's shoulders.
Aaron Donald
Donald was recently called "unblockable" by Bill Belichick and is the favourite to win his second consecutive Defensive Player of the Year Awards. Donald is a superstar who has won 46% of his pass rushes and the Patriots will simply not be able block him with multiple linemen.
Brandin Cooks and Robert Woods
A home run hitter, who formerly played in New England will be one to watch for his ability to take a quick slant to the house. Robert Woods along with Brandin Cooks will be a threat to run a jet sweet, making it impossible for the opponent to key in on a single ball carrier.
Will Tom Brady win his sixth Superbowl as he squares off against the Rams, the same franchise that he defeated to win his first title?
What is the Patriots plan to stop 'unblockable' Aaron Donalds?
Will the Rams use of 11 personnel win them the title?
Find out this Sunday with VMedia TV. Catch the Super Bowl on CTV, CTV Two and TSN with any of our popular TV plans – Skinny, Basic, Premium Flex and Grand Premium.
Sports Fans – get your chicken wings ready!
VMedia TV — More Sports. More Entertainment.