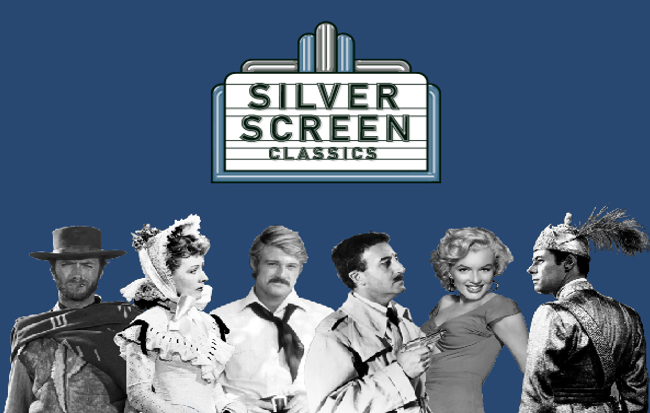 Step into the golden age of movies with Silver Screen Classics. VMedia TV is bringing you a Free Preview of Silver Screen Classics from now until January 15 2021!
Silver Screen Classics is the only Canadian TV channel specializing in classic films, with legendary movie stars like Elizabeth Taylor, Fred Astaire, Marilyn Monroe, Ginger Rogers, Charlie Chaplin, Sophia Loren, Marlon Brando, Clint Eastwood and many more. The best of Hollywood movie – making at your fingertips and free until mid-January.
Silver Screen is on channel #324 in your channel line-up in all provinces with the exception of Quebec where it is on channel #295.
Make the most out of your screen time as we all nestle in during this Covid period with a great selection of movies. Here are some classics to look out for:
Johnny Guitar – October 17th, 3pm ET/12pm PT
Don't miss one of the all time great westerns of the 1950's. Joan Crawford takes center stage in Johnny Guitar as she stands her ground after being wrongly accused of murder!
All Quiet on the Western Front – October 24th, 6pm ET/3pm PT
Let us take you back 90 years with All Quiet on the Western Front. It's the tragic story of young German school boys who enlist for World War 1, only to get a first-hand look at what horror war can bring. Film buffs – take note.
The Bride of Frankenstein – October 31st, 11pm ET/8pm PT
This Halloween, celebrate with the classic of classics. Dr. Frankenstein tries to escape his life of evil monster making, but is forced into his old ways when his wife is kidnapped!
Enjoy Silver Screen Classics by subscribing to our Movies theme pack for only $7.95/month. You can also add Silver Screen Classics to your TV line up through our UChoose store for only $2.95/month, Now 3 Months Free!
VMedia TV – More Freeviews. More Enjoyment.