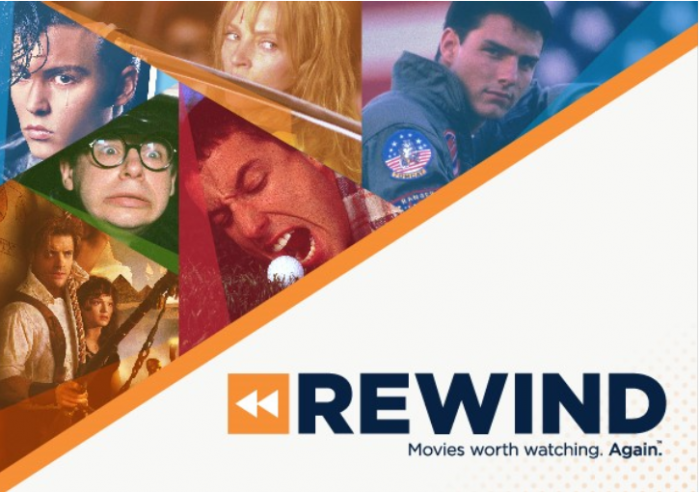 VMedia is pleased to offer you a Free Preview of Rewind from now to January 15, 2021. Here is your chance to enjoy a full roster of movie titles through the next couple of months completely on us.
Rewind lets you rediscover the characters, quotes, and plot twists that defined pop culture today. Reconnect with some of your favourite films, or discover new films to savor. Reward yourself with a lineup of hundreds of movies. .
Watch Rewind on channel #331 in your VMedia channel line-up in all provinces with the exception of Quebec where it is on channel #291.
Here are some great shows to catch – if you are not too busy with Halloween and pumpkins:
The Doors – October 18th, 9pm ET/6pm PT
What would Rock N' Roll have been without The Doors? Luckily that's a world we don't have to live in and even luckier, that Director Oliver Stone made this dramatic biography featuring Val Kilmer who could have been Jim Morrison's twin!
The Amityville Horror – Friday October 30th, 8pm ET/5pm PT
Return to the most haunted house to ever exist. The 1979 horror throwback is the perfect movie for Devil's Night, filled with screams and heart pounding terror.
Halloween Spookfest: The Evil Dead and Rocky Horror Picture Show – October 31st, 7pm ET/4pm PT
Halloween is a time for costumes and scares, and maybe a few laughs, Rewind has it all!
With throwbacks like the horror masterpiece, The Evil Dead, followed up with its cult famous sequel. To top off the night, we obviously couldn't be without, Dr. Frank-N-Futer and The Rocky Horror Picture Show.
Enjoy Rewind by subscribing to our Movies theme pack for only $7.95/month. You can also add Rewind to your TV line up through our UChoose store for $2.95/month, Currently 3 Months Free!
VMedia TV – More Freeviews. More Enjoyment.