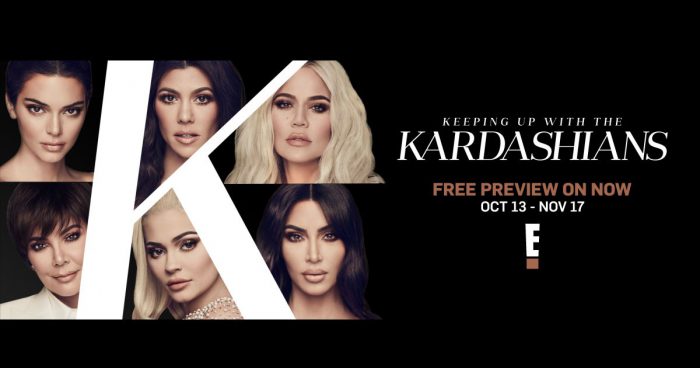 VMedia is delighted to bring you E! – the #1 source for entertainment news and celebrity gossip – now on Free Preview until November 17th.
Here's your chance to indulge and stream the best of pop culture and reality series totally free on E!. (E! is on channel #71 in your channel line-up in all provinces with the exception of Quebec where it is on channel #206 in QC.)
E! is the authority on celebrity news and buzzworthy entertainment with hit shows like Keeping Up With The Kardashians, Total Bellas and The People's Choice Awards.
Here are some highly anticipated new series and new seasons you won't want to miss:
Dr. 90210 – Premiered September 28th
The world's most famous zip code is getting a facelift. Beverly Hills' top female plastic surgeons will get you tight, tucked, fit and fabulous.
The Bradshaw Bunch – Premiered September 17th
Legendary quarterback Terry Bradshaw gives us an intimate look at life in the off-season. He's been called "The Greatest of All Time," but now this touchdown titan spends his days surrounded by women in his most coveted position: World's Greatest Dad. As husband, father and "Papi" to the Bradshaw Bunch, Terry hilariously helps his family navigate the pitfalls of their extraordinary lives.
Returning Series:
Keeping Up With The Kardashians – Season 19, Premiered September 17th
The drama of the most successful reality series continues. The Kardashian family tries to recover from the drama of Christmas, Khloe plans a baby shower for her best friend, Malika who wrestles with the reality of becoming a single parent. Kourtney gets into cuddling and breakouts of her comfort zone by forcing herself to be more affectionate. Khloe and Scott begin the next phase of their prank on Kris.
Total Bellas – Season 6, Premieres November 12th at 9pm ET/6pm PT
Nikki Bella and Brie Bella have built their lives and careers together, but nothing they've been through before has prepared them (or the men in their lives) for being pregnant at the same time. The Bella Twins are having babies, and everyone's lives are about to change!
E! People's Choice Awards – November 15th at 7pmET/4pmPT
Get ready for the E! People's Choice Awards and all the antics. Celebrities and pop culture at its most memorable moments. There are even some new categories this year, o choose including The New Artist of 2020, The Collaboration Song of 2020 and The Soundtrack Song of 2020, for a total of 44 categories across movies, television, and music. The only award show for the people, by the people.
Like what you see on our E! Free Preview?
It's easy to add this channel in your My Account. E! is available 'as la carte' in our UChoose store for $4.95/month. You can also get E! with our popular Premium Flex $52.95/month (1 Month Free), Grand Premium $70.95/month (1 Month Free) and Basic TV package for only $39.95/month.
VMedia TV – More Freeviews. More Enjoyment.