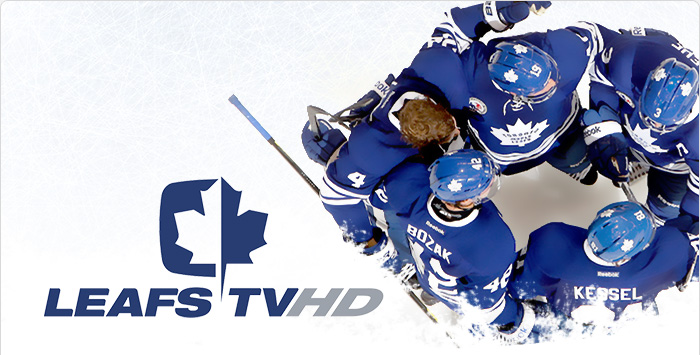 Hello to all you Leafs fans out there in VMedialand!
Good news, we have wrapped our heads around the way to deliver LeafsTVHD to you, and are pleased to announce that starting tonight, September 27, VMedia will be delivering Toronto Maple Leafs
games to you that are shown on LeafsTVHD.
You can find LeafsTVHD on Channel 98 on the VMedia line up, right next to LeafsTVSD (Channel 97).
Tonight's game, starting at 7:30PM, has the Leafs visiting the Detroit Red Wings at Joe Louis Arena. Look for it!
Toronto Maple Leafs Schedule on LeafsTV
November 2013

Date
Visitor
Home
Time (ET)
Thu, 21 Nov 2013
Predators
Maple Leafs
7:00 PM
Fri, 29 Nov 2013
Maple Leafs
Sabres
7:30 PM
December 2013

Date
Visitor
Home
Time (ET)
Thu, 5 Dec 2013
Stars
Maple Leafs
7:00 PM
Sun, 8 Dec 2013
Bruins
Maple Leafs
7:00 PM
Thu, 12 Dec 2013
Maple Leafs
Blues
8:00 PM
Tue, 17 Dec 2013
Panthers
Maple Leafs
7:00 PM
Sun, 29 Dec 2013
Hurricanes
Maple Leafs
7:00 PM
January 2014

Date
Visitor
Home
Time (ET)
Fri, 10 Jan 2014
Maple Leafs
Capitals
7:00 PM
Sun, 12 Jan 2014
Devils
Maple Leafs
7:00 PM
Mon, 20 Jan 2014
Maple Leafs
Coyotes
8:00 PM
February 2014

Date
Visitor
Home
Time (ET)
Thu, 6 Feb 2014
Maple Leafs
Lightning
7:30 PM
March 2014

Date
Visitor
Home
Time (ET)
Mon, 10 Mar 2014
Maple Leafs
Ducks
10:00 PM
Sun, 23 Mar 2014
Maple Leafs
Devils
7:00 PM
April 2014

Date
Visitor
Home
Time (ET)
Thu, 10 Apr 2014
Maple Leafs
Panthers
7:30 PM