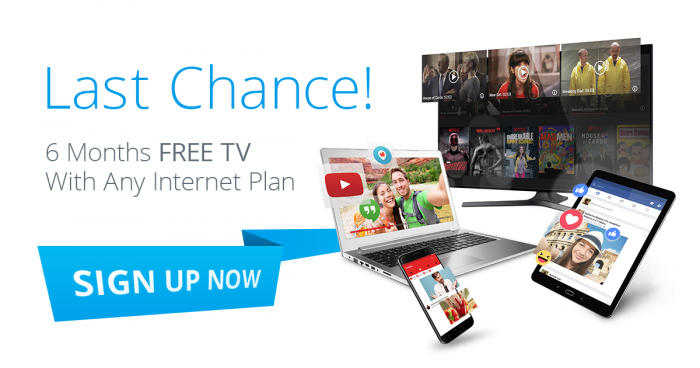 All great things have to come to an end sometime….. and our terrific 6 Months FREE TV offer will be winding down shortly.
Don't delay or you will miss out on our best TV offer ever! Sign up to one of our unbeatable, unlimited high-speed internet plans, and get 6 months free VMedia TV service!
Try our Skinny TV package, with all the Canadian and US networks channels, such as CTV, CBC, ICI, TVA, Global, NBC, ABC, CBS, FOX and PBS, all in beautiful HD. Enjoy hundreds of hours of your favourite programming each week – live, or with our cool VCloud (look back TV) feature. Skinny is free for six whole months, and then only $17.95 / month afterwards. That's over $100 in TV savings – plus you get FREE internet installation as well.
Want your favourite specialty channels and more sports? Use the free offer savings with our Basic TV package – regularly $29.95 / month, but now only $12.00/ month for six months, and enjoy over a dozen additional specialty channels, including TSN, YTV, E!, CTV News Channel, MuchMusic, and CP24 (where available).
Or, treat yourself to our most popular TV package, Premium Basic, with up to 70 great channels, everything in the Basic package plus all the regional Sportsnets, SportsnetOne, CNN, AMC, A&E, Showcase, Bravo, Discovery and many more. Sign up today and pay only $27.00/month for the first six months.
A great TV offer when you sign up to any one of our unlimited internet plans; Cable or DSL/FTTN and no extra data charges, no contracts and no cancellation fees. Prices starting from $19.95 and speeds up to 250Mbps. We have plans for every budget and bandwidth need.
Switch to VMedia today – offer ends July 16, 2017