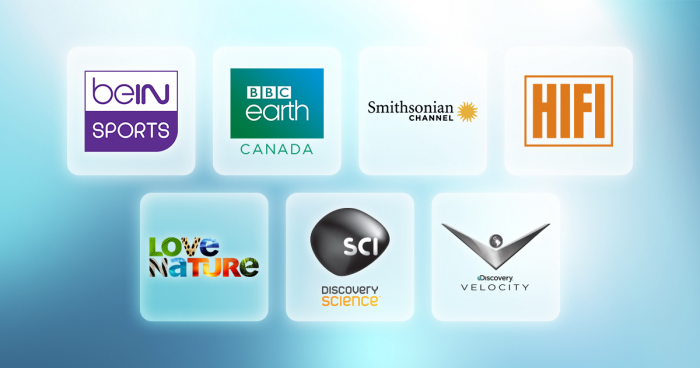 We are delighted to announce the addition of seven great new specialty channels to our lineup. They are the four pioneering premium HD channels from Blue Ant Media – Smithsonian Channel, HIFI, Love Nature and BBC Earth, the soccer-crazy international sports premium channel beIN Sports, as well as Discovery Science and Discovery Velocity!
Brought to you in beautiful High Definition, these unique channels offer something for everyone. Covering a wide variety of topics, from music and international sporting events, to science and nature, feed your imagination with these dynamic new additions to VMedia's channel lineup.
Best of all, Smithsonian Channel, HIFI, Love Nature, BBC Earth and beIN Sports have also been added to our unique VCloud TV platform, bringing the total number of channels with quick and convenient, 7-day scroll-back access, to over 30. A world of content, just a click away.
All channels are also available in our UChoose store today, from as low as $1.50 per channel.
We also thought this was a good time to create a new theme pack to bundle together some of these channels, so we are launching the Our World package, made up of the four Blue Ant channels and Discovery Science, for only $6.95/month. Unbeatable value!
And, we have added Discovery Velocity to our existing Sportsman theme pack, at no additional cost! It doesn't get any better!
Now for the details.
beIN Sports
Featuring a wide variety of international professional sports content, beIN sports offers exclusive access to live matches, news and analysis, from sports leagues the world over. With a focus on soccer, beIN sports is perfect for the passionate football fan, with exclusive coverage of key matches from La Liga, Ligue 1, the English Football League Championship, as well as the African Cup of Nations, Copa America, and many more. In addition to soccer, beIN sports also features coverage of MotoGP, Six Nations, European Championship, and Premiership Rugby, as well as FIA Rallycross, Boxing, Mixed Martial Arts, and more. Get in the game with beIN Sports.
Smithsonian Channel
Fuel your curiosity with awe-inspiring stories, powerful documentaries, and in depth specials. Smithsonian Channel features award-winning programming from the world's leading cultural institution. Whether it be air and space, science and nature, or pop culture and history, Smithsonian Channel is guaranteed to feed your imagination.
HIFI
Celebrate music and art, in a variety of forms, and in beautiful High Definition. From classic rock to opera, and the world's greatest museums to passionate quirky collections, HIFI features a beautiful and sophisticated mix of the world's best music and art programming. Best of all, enjoy HIFI without any in-show commercial interruptions. Rock on!
Love Nature
Experience our planet like never before. With commercial free, exclusive series and family-friendly documentaries, Love Nature brings you the best of animals, landscapes, and the wonders of our world, showcased through the finest Canadian and international programming. Discover, experience, and celebrate the natural world, with Love Nature.
BBC Earth
Embark on a thrilling journey of discovery, with BBC Earth. From the smallest creature to the limitless expanse of space, BBC Earth brings you face to face with heart pounding action, mild-blowing ideas, and the wonders of being human. Featuring captivating documentaries and original series, including David Attenborough's Natural Curiosities, BBC Earth opens your eyes to the amazing world we live in.
Discovery Science
Cool innovations, ingenious ideas, and the latest in consumer gadgets. If it's a ground-breaking idea, it's on Discovery Science. Filled with popular programming, including Daily Planet, How It's Made, Mythbusters, and Dirty Jobs, take science out of the classroom with Discovery Science.
Discovery Velocity
Fuel your passion for all things automotive! Featuring live broadcasts of the Barrett-Jackson Classic Car Auction, in addition to captivating original programming, such as, Classic Car Rescue, Patrick Dempsey: Racing Le Mans, Canada's Worst Driver, How It's Made: Dream Cars, and Wheeler Dealers, Discovery Velocity is perfect for those with a need for speed.
VMedia – More Channels. More Content. More Enjoyment.