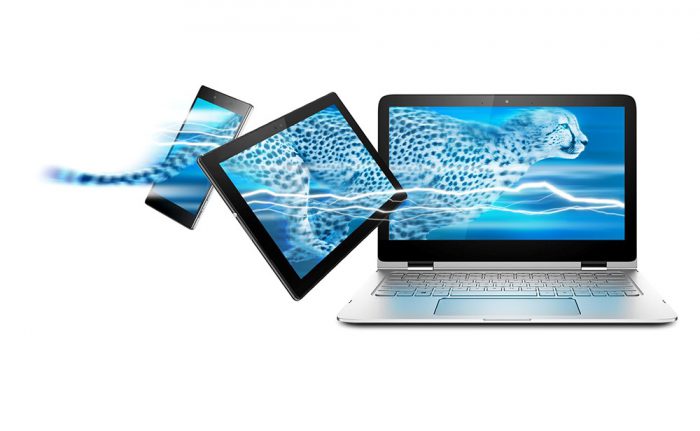 Internet Speed You Need
Ever wonder about your internet speed and whether you need higher internet speeds for streaming? The right high speed internet plan is driven by what you and other members of your family or household are doing on the Internet. Whether you're streaming movies, jamming to the latest hits or gaming online, your internet speed matters.
Everyone is streaming content today, which uses a lot more bandwidth – so here's some points about internet speeds for streaming.
An internet plan with at least 10 to 25 Mbps doesn't cost you much, but if you're streaming HD or 4K movies on multiple devices, you'll need more Mbps. We recommend a minimum of a 50 Mbps high-speed internet plan, especially if you have more than one person streaming in your home.
And with VMedia, all of our high speed internet plans – FTTN or Cable – are unlimited so there are no data caps or extra data usage fees and you can stream and download without any worries.
Streaming Movies & TV Shows
Whether you are streaming with a Roku player, an Amazon Fire Stick, or an Apple TV device, speeds do matter and we would suggest the higher speed plans for the best viewing experience. We would suggest at least a 25 or 30 Mbps high-speed internet plan as the minimum if you are only 1 or 2 users in the household and speeds like 60 or 75 Mbps or higher if more connected users and devices and more intense activity in the home. And consider higher speeds to really enjoy those 4K shows that Disney Plus and others are offering now.
Streaming Music
Streaming top movies and shows are great, and you will want good speeds to enjoy all your favourite music on Spotify, Apple Music, Pandora or Tidal.
Tidal and Deezer tend to require more of a boost from your internet speed because they use what is known as Free Lossless Audio Codec or FLAC. FLAC means the audio streams at CD quality instead of the typical compressed quality you normally get while streaming.
Downloading and Streaming Games
Generally –speaking you want to be in the higher end speeds if you are an active online gamer. Hey – reaction time is everything! Three aspects of your internet connection will affect your online gaming experience: upload speed, download speed, and ping rate. Each gaming system has its own requirements for these capabilities, but higher internet speeds of 50 Mbps and up will have you covered for gaming and other online activities for you and others in your household. Once again, if you have multiple players and connected devices in your home, or you want the very best speeds for gaming, you will want to go much higher.
VMedia – Fast, Reliable, Unlimited Internet
Whatever your online preference – streaming movies or online gaming, VMedia offers the best value in Internet service today with speeds from Internet 15 to Cable 940. High speed, unlimited plans and easy online shopping. We have plans for every bandwidth and household budget.
For further details and our current great promos, visit us at www.vmedia.ca.