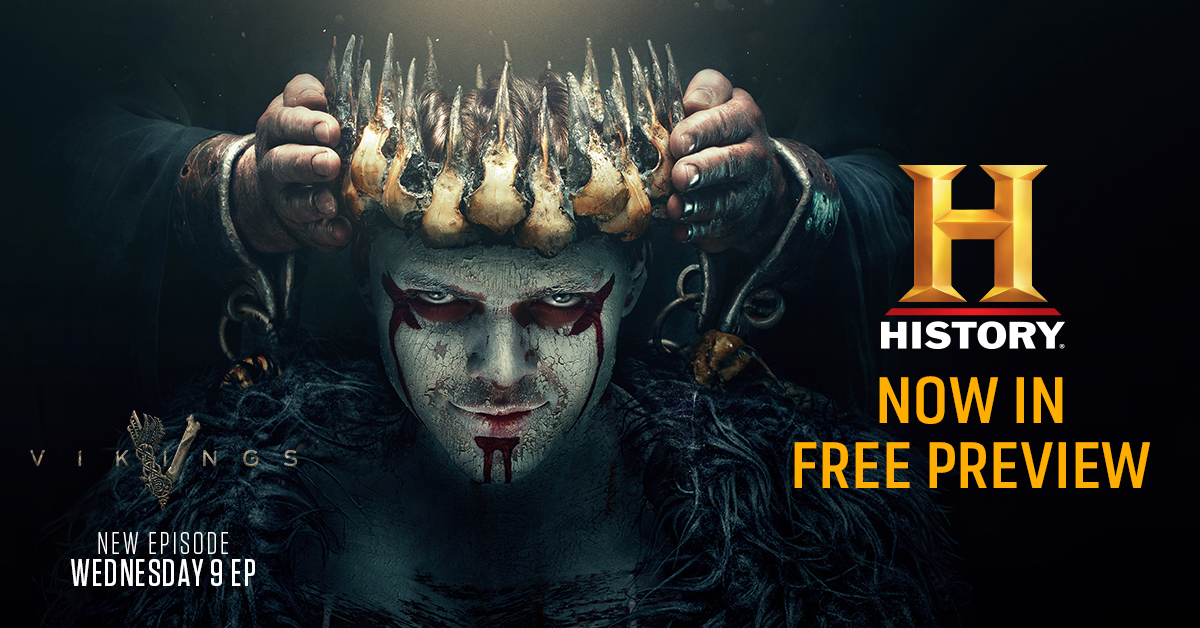 Step back into time with HISTORY this winter – VMedia TV subscribers can catch HISTORY for FREE from now until January 31, 2019!
Over the next two months, fans can catch these exciting series:
Vikings
New Episodes – Wednesdays, 9 PM
With Ivar the Boneless becoming King, Kattegat is facing a new dark age. However, Ivar's reign is not safe, and will not go unchallenged by his brothers and old enemies. Skol to more betrayal, battles and romance as new episodes of Vikings return to HISTORY.
The Curse of Oak Island
New Episodes – Sundays, 10 PM
HISTORY's popular series returns for its 6th season, documenting brothers Rick and Marty Lagina as they pursue their lifelong dream of solving the 223 year old Oak Island mystery. For over two centuries, teams of searchers, including Franklin D. Roosevelt, have attempted to crack the code that will unearth the treasure believed to be buried on the small island off the coast of Nova Scotia. Armed with the knowledge of those that came before them, the muscle of heavy machinery and decades of engineering know-how, the Lagina's come closer than anyone in history to finding the treasure that has so far claimed the lives of six men.
Rust Valley Restorers
New Series – Premieres December 6, 10 PM
Nestled in the foothills of the Rocky Mountains is one of the most unique car communities in the world: Rust Valley. Acres upon acres of old and abandoned cars — a junkyard as far as the eye can see. At its heart is a remarkable restoration shop run by a team of colourful and charismatic characters who use their impressive skills and experience to restore, trade and sell classic cars — transforming piles of rust into collectible car treasures.
Enjoy the HISTORY channel when you subscribe to our popular Premium Flex – Family Package. Take advantage of the special offer we have on right now on Premium Flex – only $28/month (for 6 months then reg. $49.95/month). You can also get History in our Grand Premium TV packages for only $46/month (for 6 months then $67.95/month) respectively. HISTORY can also be added to your TV line up with our Knowledge theme pack for $10.95/month or individually through our UChoose store for only $2.95/month.
VMedia TV – More Content, More Enjoyment.