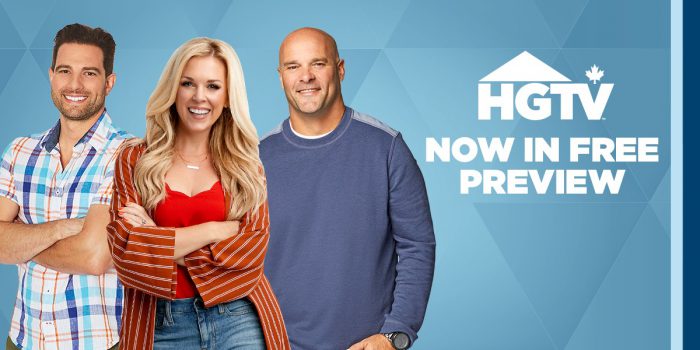 HGTV Canada is on Free Preview from now until April 30th for all VMedia TV subscribers!
HGTV Canada offers exciting reality programming that celebrates the spirit of home. Flipping on this addictive network is like falling down a rabbit hole filled with home renovation wishes and real estate dreams.
Enjoy HGTV on channel #46 in your TV Guide in all provinces except Quebec where it is on channel #220.
Bargain Mansions
Thursdays, 9/9:30PM
For home restoration expert Tamara Day, there's no such thing as a home that's too big! She specializes in restoring the neglected large homes that others are too scared to take on. She brings these big beauties back to life so that new families can move in and love them.
Making It Home with Kortney & Dave
Wed & Sat. 10PM
Kortney and Dave Wilson help homeowners make strategic moves with their money by using their flipping expertise to turn fixer-uppers into the home of their dreams. With sledgehammers swinging, after the dust settles the results are always stunning.
Extreme Makeover: Home Edition
Sundays, 9PM
Extreme Makeover: Home Edition features a weekly race against time as a team of designers, contractors and several hundred workers, have just seven days to renovate and rebuild an entire home for one deserving family.
HGTV Canada is included in our popular Premium Flex Lifestyle and our Grand Premium TV packages, $52.95/month and $70.95/month. You can also subscribe to HGTV Canada with our popular Living and Style/Living Combo theme packs for only $8.95/month and $13.95/month or individually through our UChoose store for just $2.95/month with 2 Months FREE!
VMedia TV – More Content, More Enjoyment.