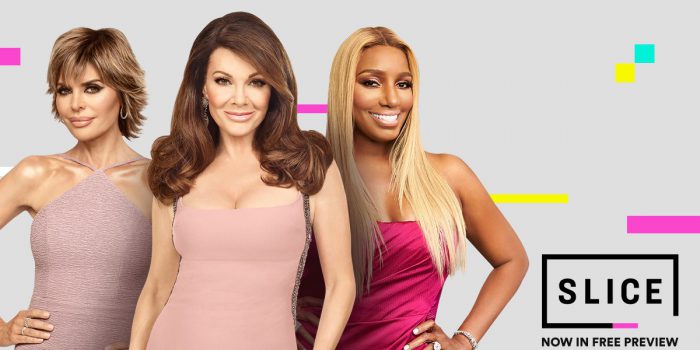 Enjoy our free preview of SLICE – from March 1 until April 30 – offering a great line-up of programming and available to all VMedia TV subscribers.
SLICE #41, is the destination for unscripted television showcasing big, buzzworthy personalities and a glimpse into the lifestyles and relationships of the rich and outrageous. Here are some show you won't want to miss.
Below Deck Sailing Yacht
Mondays, 9PM
Trading in the motor yacht famed on Below Deck, this series is set on a luxury sailing yacht with a new crew and equally demanding charter guests looking to follow the wind as they cruise along the crystal-clear blue waters of Corfu, Greece. Chef Adam Glick from Below Deck Mediterranean returns to the galley aboard the 180-foot-long sailing yacht Parsifal III.
Vanderpump Rules
Tuesdays, 9PM
After the successful debut of TomTom, Lisa Vanderpump is busier than ever with her expending empire. With many of her longtime employees growing up and moving on, Lisa finds herself dealing with a new crop of wild and lovable SURvers—and the romantic dramas and workplace skirmishes that come along with them.
The Real Housewives of Beverly Hills
New Season – April 22 – Wednesdays, 9PM
The Real Housewives franchise heads to the land of swimming pools and movie stars with The Real Housewives of Beverly Hills. The series follows a group of affluent women as they enjoy the lavish lifestyle that only Beverly Hills can provide
Enjoy SLICE, channel #41, with our popular Premium Flex – Lifestyle or Grand Premium TV packages, $52.95/month and $70.95/month. Sign up now for Premium Flex or Grand Premium and get 1 Month FREE!
You can also subscribe to SLICE in our Living theme pack $8.95/month, our Style/Living Combo for $13.95/month, or add Slice to your channel line up as a UChoose channel for only $2.95/month and you get 2 months Free!
VMedia – More Content. More Enjoyment.