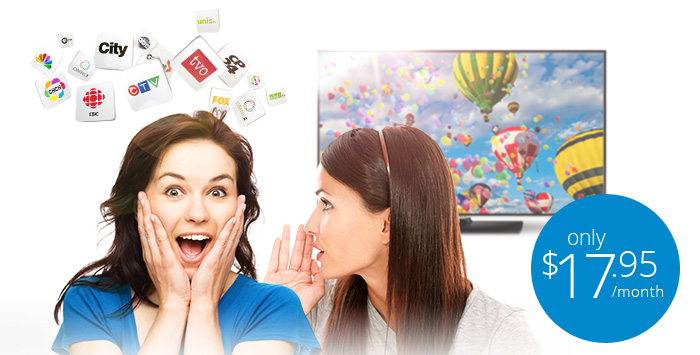 VMedia is pleased to announce the launch of a new TV package, TheSkinny™ – the lowest priced, basic package in Canada and available for purchase starting Thursday, June 4.
Canada's First "skinny" Basic Package!
Introducing our new TV package, TheSkinny – and a whole new era in choice for TV subscribers.
TheSkinny is the lowest priced basic package available in Canada today, and the perfect foundation for your own personalized TV line-up. Twenty eight key channels including all the major Canadian and US networks, CBC, CTV, Global, CHCH, CITY, TVO, CBS, NBC, ABC, Fox and PBS, and more!
Build your own customized TV package, starting with TheSkinny, and then select from among our many theme packs and over 60 channels in our UChoose Store.
VMedia continues to be the leader in providing you with more choice and flexibility in TV services, low prices and innovative entertainment features. TheSkinny is the first basic package fully compliant with the CRTC's recently announced new rules governing TV packaging.
Any Twenty – Customize Your TV Line-Up
Together with TheSkinny, we are launching Any Twenty. That's right, choose any 20 channels from our UChoose Store for only $30.00/month. Add any additional channel for $1.50/channel. Create the lineup that you have chosen, channels that you want to watch. For now, we are permitted by channel providers to offer just over 60 channels on a standalone or pick a pack basis, but by December, 2016, all channels will have to be made available as standalones or on a pick a pack basis. So stay tuned!