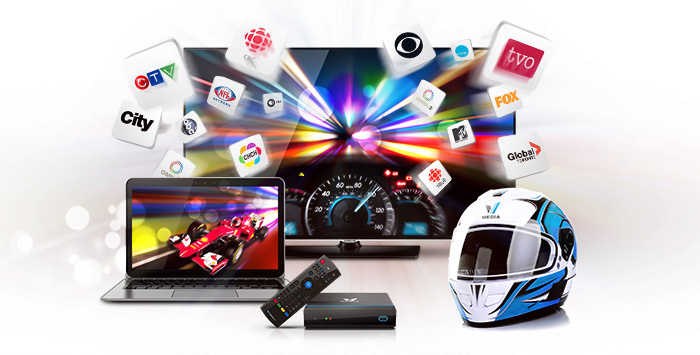 Blazing Speeds & Tons of Content!
VMedia announces our latest and fastest internet and TV bundle – Cable 100 Mbps and Premium Basic TV. That's right – the blazing fast speed of a Cable 100 internet service combined with Premium Basic, the best value TV package on the market today. Together, for only $119.90/month.
This unique combo gives you all the advantages of Cable 100 internet service, with speeds up to 100 Mbps down, and 10 Mbps up – unlimited usage of course – and our Premium Basic TV – over 70 of the most popular channels on TV, including all the major Canadian and US networks and over 36 specialty channels including CP24, TSN1-5, all the SportsNet regionals, A&E, Bravo, AMC, Showcase, YTV, CNN, TLC, E! – all in HD – and more. Keep your savings in your pocket, or use them to expand your TV line-up with our theme packs and over 60 standalone and "pick a pack" channels available in our UChoose Store.
And on top of all that, you get all the cool features of the VBox, our unique set top box and media player, which gives you access to all these great channels, as well as hundreds of apps available from Google Play.
So for all of you out there who want to enjoy the fastest speed provided by the cable network and Premium Basic TV, the best set of channels for the best price – we've got you covered.
Call us now at 1-855-333-VBOX (8269) or subscribe online at www.vmedia.ca to take advantage of this limited time offer! If you want the fastest, you have to move fast!