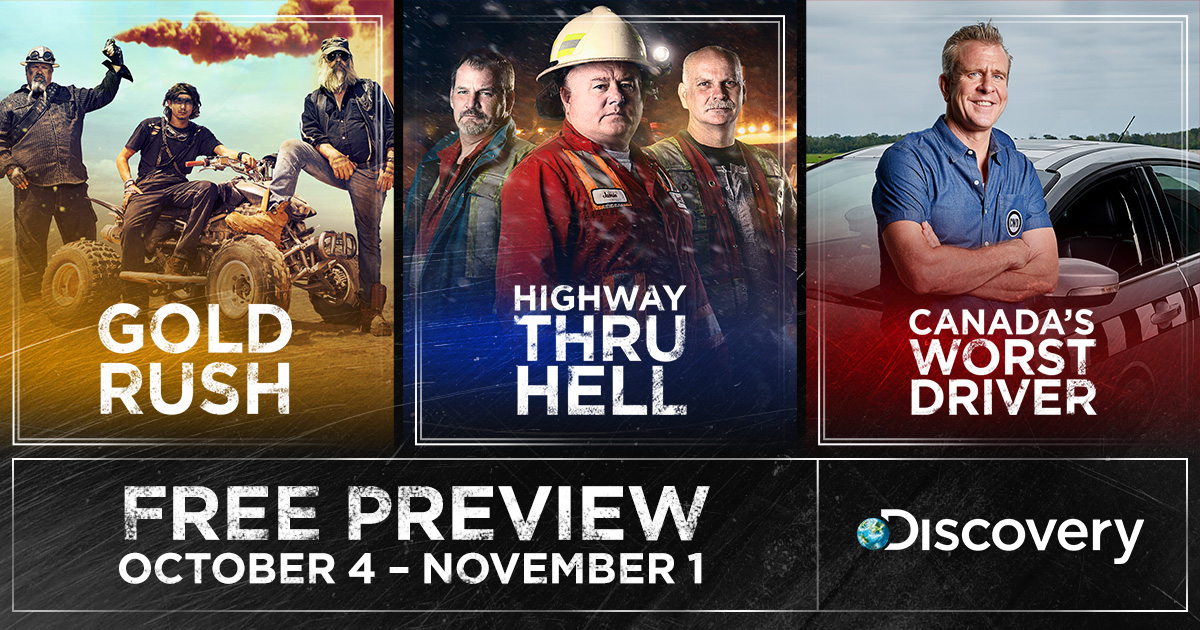 VMedia is pleased to offer Discovery Channel (Channel #42) on free preview until November 1st – for all VMedia TV subscribers!
The world is just awesome! Discovery brings you compelling real-life programming that inspires, entertains, and reveals the world in all its wonder. With the best non-fiction programming from Canada and around the world, Discovery Channel remains the destination for adventurers and immersive storytelling. Over the next month, viewers with curious minds can watch a mix of adrenaline-charged stories, and larger-than-life personalities.
Jump into these exciting shows:
Highway Thru Hell
New Episodes Tuesdays 10 PM
Highway Thru Hell features Jamie Davis' legendary heavy rescue team and his competitors – Quiring Towing, Aggressive Towing, and Mission Towing, three of the longest-running family operated tow businesses in BC. Ready to navigate the extreme roads and relentless weather, each operation returns to keep open some of the most economically important, most travelled, and most inhospitable routes in North America.
Gold Rush
Premieres October 12, 9 PM
Discovery's top-rated unscripted series returns for a new season featuring "new miners, new rivalries and brand new claims". This season, Rick Ness steps it up and becomes a mine boss with a claim of his own after working six years under fellow miner Parker Schnabel. Rick cashes in his life savings and literally puts everything on the line.
Mighty Trains
Season Premiere October 14, 7 PM
From the locomotive to trail traffic control to the maintenance depot, Mighty Trains takes you on a journey riding the rails around the world. Mighty Trains features engineers and conductors as they navigate their way through busy rail yard, vie for priority departures, and deal with the unexpected, sometimes on railways designed almost 200 years ago. Teddy Wilson returns as our intrepid traveler.
Canada's Worst Driver
Season Premiere October 28, 10 PM
Each season begins with 8 contestants, nominated by friends and relatives. After being symbolically stripped of their keys and license at to the Driver's Rehabilitation Centre, the contestants are subjected to a two-week session of driving challenges to test their driving skill and knowledge. Each episode presents three challenges with the contestants while also being provided assistance in improving their driving by experts. At the end of the season, three drivers remain and compete in an on-road test through a busy downtown city, to be named Canada's Worst Driver.
Discovery Channel is available in our popular Premium Lifestyle and Grand Premium TV packages for only $49.95/month or $67.95/month, respectively. You can also add the Discovery Channel to your TV lineup with our Knowledge theme pack, or get it for as low as $1.50/month in our UChoose store. Sign up today!
VMedia TV – More Free Previews. More Fun.