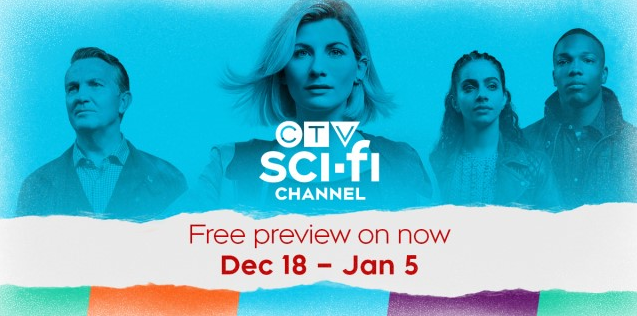 CTV Sci-Fi Channel is now on FREE PREVIEW running until January 5, 2021 with lots of great shows to watch and distract us from these Covid times. Check out this incredible line-up of programming to keep you entertained during this holiday season. Viewers will enter worlds with no limits, where fans connect to the heroes and the galaxies they dare to image – all on VMedia TV.
CTV Sci-Fi Channel is on channel #83 in your channel line-up in all provinces with the exception of Quebec where it is on channel #281.
Here are some binge-worthy shows you won't want to miss.
Doctor Who: Revolution of the Daleks – Special Premiere, Friday January 1, 2021
The continuing adventures of The Doctor, an alien time traveler – a Time Lord – from Gallifrey. Together with companions, they travel through time and space in the "TARDIS", battling evil where they find it.
Star Trek: Discovery
The series follows the crew of the USS Discovery as they encounter new worlds and civilizations, delving into familiar themes and expanding upon an incident that has been talked about within the franchise's universe, but never fully explored.
Supernatural
This haunting series follows the thrilling yet terrifying journeys of Sam and Dean Winchester, two brothers who face an increasingly sinister landscape as they hunt monsters. After losing their mother to a supernatural force, the brothers were raised by their father as soldiers who track mysterious and demonic creatures.
Like what you see? Enjoy CTV Sci-Fi Channel in our most popular TV packages, the Premium Flex or Grand Premium for only $52.95/month or $70.95/month, respectively. Add either of these great packages in your My Account and get 1 Month FREE!
You can also find CTV Sci-Fi Channel in our Entertainment theme pack for only $12.95/month, or add CTV Sci-Fi Channel to your channel lineup for $5.95/month in our UChoose store. Both options can be easily done in your My Account.
Happy holidays with VMedia!