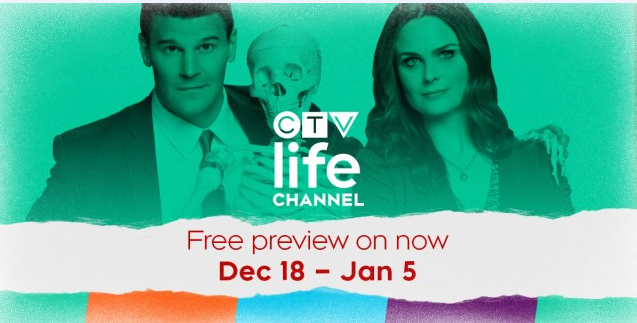 CTV Life Channel is now on FREE PREVIEW to all our TV subscribers until January 5, 2021. CTV Life Channel offers terrific shows to entertain and inspire you with home and lifestyle series, amazing meals to savor and incredible places to explore.
CTV Life Channel is on channel #61 in your channel line-up in all provinces with the exception of Quebec where it is on channel #204.
Here are some great series and Holliday specials you're sure to enjoy.
Bones Marathon
Forensic anthropologist Dr. Temperance "Bones" Brennan and cocky F.B.I Special Agent Seeley Booth build a team to investigate murders. Quite often, there isn't more to examine than rotten flesh or mere bones.
Jamie Oliver's Christmas Cookbook
A must-watch treat for Christmas Eve, Jamie Oliver serves up cast-iron tips, tricks and hacks for delicious and stress-free Christmas.
Jamie & Jimmy's Festive Feast
Targon Egerton joins Jamie, Jimmy and their moms for a festive feast on the pier. He cooks up Christmas dinner, including his mom's trifle, and the boys investigate free-range turkey farming.
One World Kitchen Bakes The Holidays
We bring a global twist to sweet holiday baking with sumptuous easy to make recipes from Italy, Argentina, Japan and Thailand.
Like what you see? Watch CTV Life Channel in our most popular TV packages, the Premium Flex or Grand Premium for only $52.95/month or $70.95/month, respectively. Add either of these great packages in your My Account and get 1 Month FREE!
You can also add CTV Life Channel to your lineup with our Style theme pack for only $8.95/month, or get it for $4.95/month in our UChoose store. Both options can be easily done in your My Account.
Happy holidays with VMedia!