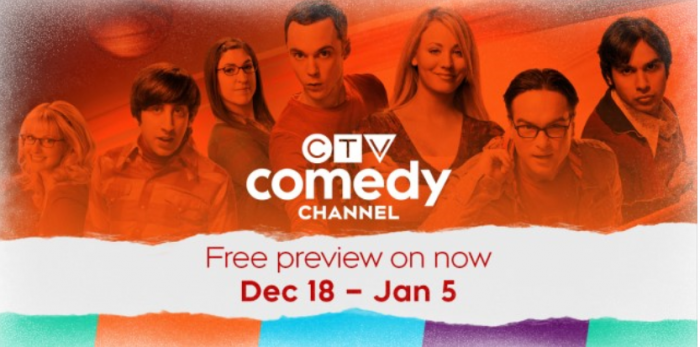 The CTV Comedy Channel is now on FREE PREVIEW to all our VMedia TV subscribers until January 5, 2021!
CTV Comedy Channel features the best in comedic entertainment. Viewers will enjoy some of the biggest sitcoms, late-night talk shows, A-list stand-up comedy, hit movies and every other flavour of funny – all on VMedia TV.
CTV Comedy is on channel #50 in your channel line-up in all provinces with the exception of Quebec where it is on channel #222.
Here is some top programming you won't want to miss.
Big Bang Theory Full Series Marathon – Dec 22nd– Jan 5th
The lives of four socially awkward friends, Leonard, Sheldon, Howard and Raj, take a wild turn when they meet the beautiful and free-spirited Penny.
Jeff Dunham – The Completely Unrehearsed Last Minute Pandemic Holiday Special
Filmed in Malibu, California in front of a small, socially distanced audience, Jeff Dunham returns in his 10th special made up of almost 100% brand new, untried or tested material.
The Daily Show with Trevor Noah – Monday -Thursday 11PM EST
The Daily Show is an Emmy and Peabody Award-Winning program that looks at the day's top headlines through a sharp, reality-based lens.
Corner Gas Animated – Monday 9PM EST
Corner Gas Animated is a hilarious animated reboot of the original Canadian series "Corner Gas".
Enjoy CTV Comedy Channel in our most popular TV packages – Premium Flex and Grand Premium TV packages for only $52.95/month or $70.95/month, respectively. Add either of these great packages in your My Account and get 1 Month FREE!
You can also add CTV Comedy Channel to your lineup with our Entertainment theme pack for only $12.95/month, or get it for $5.95/month in our UChoose store. Both options can be easily done in your My Account.
Happy holidays from VMedia!